Last Updated:
17th August, 2020
Baby Shower Messages
Of the considerable number of parties there are, baby showers are practically the best. What's more, the cutest. At the point when you're welcome to an event this cheerful, you'll certainly need to come arranged—with a blessing, yet in addition with all your amazing wishes in a baby shower card. While wishing your loved ones on the special journey of life you should have some wonderful words to express your love, someone is giving a birth to a new life and you should bless them with a blessing and gift a card.
Dearest mother to be, you are going to have one amazing journey of your life, May god bless you on every step. Happy baby shower!

Having a baby is a planned thing but when it is put to action and you realize it's time then that is when you panic but don't. Enjoy every moment of baby shower!

The bump looks nicer to me and so you're healthy. I believe you are having a nice diet to have a healthy baby. Have an amazing baby shower!

A mother is more than everything; she is a feeling of love, joy, sadness, happiness, care, warmth, protection. Hope you will have good one. Wishes for baby shower!

Cheers to hoping for ride of unconditional love and motherhood. The journey is going to never end because it's just started. Baby shower blessings!

You will always feel a little low about certain part in your life but trust me when the baby's out, you will be crying with happiness. Have a happy baby shower!

A baby shower is a feeling that reminds you of motherhood, care, support which your baby will need. So here it comes hope you an amazing motherhood journey.

Wishing you a happy baby shower, may god always bless good health to your baby and you. My best wishes and regards.

Welcoming to the tribe or let's say to the 'mom' tribe. Hope you always share your bit of heart and feel relaxed. Baby shower wishes!

From 'I seriously don't want to become mom' to 'having a baby shower' how do you feel?
Have a wonderful baby shower!
Funny Baby Shower Messages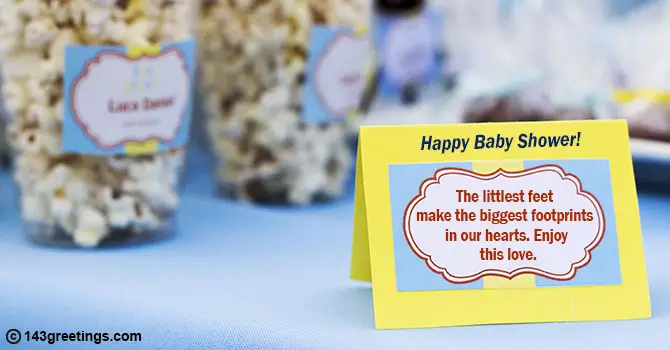 Dear friend, well at least now you have new set of dresses and clothes to wear. Hope you have a happy baby shower!

Don't worry about your figure we have got you covered, taken a gym membership in advance. Happy baby shower!

Well, it looks like a nightmare to clean the dirty diapers and stuff of the baby but you will get used to it and eventually end up loving. Baby shower wishes!

Now you will have enough time to run behind your kid and play which means you can relive your childhood. Wishing you a happy baby shower!

Having a baby is more like a feeling you can't say to anyone, you feel unsaid pressure and you feel funny about just suddenly becoming a mom but that's fine. Baby shower wishes!

Well, you are going to turn 2 not your age by actually by numbers this time. So, I wish you the best and a happy baby shower!

To all those endless cravings and asking your husband to fulfill it is just amazing. The days are ending soon take the most of it. Have a happy baby shower!

It's a beautiful thing, I just known like a party animal person who turned into a saint after knowing she was pregnant. So have an amazing baby shower!
Baby Shower Warm Wishes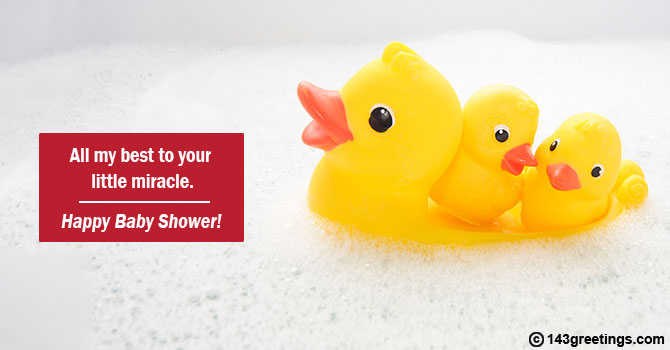 I wish the baby is as wonderful as you and as beautiful as your husband. Wishing you life filled with love ahead, warm wishes for baby shower!

May the baby inherit all the good traits of mother and father, wishing you both congratulations. Warm wishes for baby shower!

To soon going to be mother and father, how does it feel someone would actually start calling you 'mama' and dada'? Well hope you have a gorgeous baby shower!

I still can't believe you are soon going to be parents and that's like a dream to me. Baby shower wishes, we are still going to shop!

Congratulations to new mom and dad, a toast to them. May you always find piece within and love out, may the baby be second kind of god. Have a happy baby shower!

Warm wishes for baby shower, it's going to be a hone for toddler and hope to see you becoming one. Wish you the best journey!

It's just feels like a moment when you were married and now you are announcing parents. I am so proud and overwhelmed. Warm wishes for baby shower!

It's for some other person to rule in the house, no more your turn only baby's turn. Have a beautiful baby shower and capture the moments!
Baby Shower Messages for Mom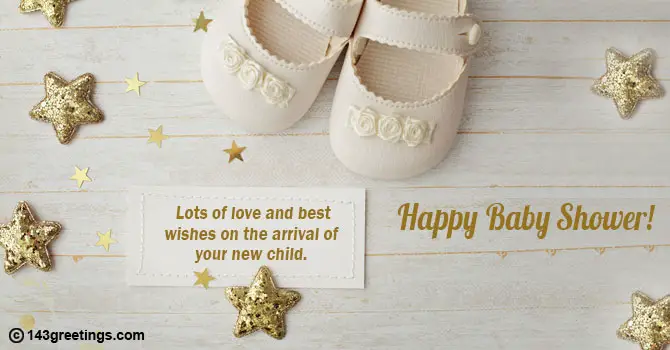 I am blessed to have a daughter like you and I wish that you can say that too. I wish you a very happy shower and lifetime happiness with your baby!

When I was about become a mother I was so worried all the time how would I raise a child but then you automatically happened to be god gifted and so is your baby!

From a mother to another mother to be, life could be difficult at times with baby but 5 minutes pain to lifetime of happiness. Happy baby shower!

Happy baby shower to mother to be, just when whole life is about to change upside down remember you will always have your family.

The most amazing feeling is when the baby comes out, it's like you already gave your heart to someone. Have a happy baby shower!

Well, I just want to say to have a happy life ahead with your one because that's the moment you will live that most. Happy baby shower!

I could not believe I am going to be a grandmother feels like I am on cloud nine, thank you for giving us this happiness. Have a happy baby shower!

May god bless you and your child with good health and happiness. Stay strong and keep yourself super healthy. Happy baby showering!
Baby Shower Wishes in Hindi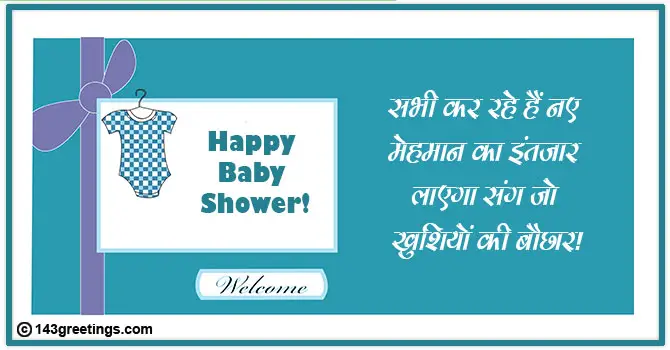 Ho raha naye mehmaan ka intezaar, bhar ke aayega jholi me khushiya hazaar, Hum sab yehi dua karte bhut acha hoga tumhara ye baby shower!

Zindagi ke chote chote pal ka maza hi alag hota hai,
Haath me jab chota sa bacha hota hai,
Dil se kamanao ke sath bhej rahe aapna pyaar,
Khushi se manao aapka baby shower!

Lakh lakh badhaiyan aapko,
Mummy papa kehne wala aa raha hai aapko,
Khush rehna, mast rehna, achi health ki dua aapko,
Baby shower ki shubhkamnaein aapko!

Choti si ungli thamegi ki bada sa hath,
Bana rahe aapka hamesha sath,
Baby ho healthy aur ho achi shuruvat,
Aisi badhai deta hai hamara parivar!

Gaano ki dhun gun Guna rahi hu,
Aashirvaad ka paigaam bhej rahi hu,
Beete khushiyon se aapka baby shower yehi duaein kar rahi hu!

Hasee aapki kabhi kam na ho,
Kisi baat ka koi gam na ho,
Bacha aapka sehatmand ho,
Humara aashirvaad hai aapka baby shower bhut khubsurat ho!

Chote chote pal ko kaid kar lena,
Tasveer ko frame karva kar rakh lena,
Ye pal dubara nahi aayenge inhe jee bhar ke jee lena,
Apne baby shower me pura maja lena!

Bhag dhaud toh abb shuru hogi,
Jab godi me choti se santan hogi,
Baby shower me sirf aap ki tareef hogi,
Kyuki agli baar saari baate bache ki hogi!
Baby Shower Wishes for Sister
I am going to be aunt! Oh my god I am so happy for you sister and the bump looks nicer. Have a happy baby shower sis!

So, my trip is confirmed I am going to be there with you till your delivery. May god bless you with good healthy sister, happy baby showering!

Well, I was your kid all my life and now you are actually going to have a baby, I can't believe but I wish you a happy baby shower and enjoy every bit of motherhood!

You just have to sit back relax and enjoy the bump. This is your moment and save it for you baby. Happy baby showering!

May this baby enlightens your world and bring out the best in you. I wish you a very happy baby shower and blessings upon the baby boo!

Have a happy baby shower dearest sister, I wish this baby inherits every trait of yours because you are the best. Love you!

May all the stars shine for the baby and may god always shower his blessings upon both of you. Happy baby showering sister!

To all the surprises for the baby in coming into this new amazing world. I wish good health for both of you. Have a happy baby shower sister. Love you!
A baby shower fills in as a wonderful celebration from all the insanity and a pleasant time for the guest of honor to flaunt her ever delightful child knock. This is likewise the ideal opportunity to praise one final hurrah with the young ladies before the baby says, "Hi, World!" As a guest, you'll need to guarantee that this day goes as beautiful as could be expected under the circumstances, brimming with festivities and grins. Compose your child gift card with some baby shower wishes and messages give above. Hope this was helpful to you.
Keep introducing babies to the world!
Tags: baby shower messages, baby shower wishes, baby shower quotes