Last Updated:
14th August, 2021
Rakhi Messages
Rakhi Messages: We all have lovely memories of Rakshabandhan festival and have some stories that make us blush whenever we recall those moments. After all, this is the only festival of siblings and the love of siblings in childhood we all know is unmatched. The festival is observed on the last day of Shraavana month every year. 2021 Raksha Bandhan will be celebrated on 22nd August. This is the festival of Hindus and celebrated mostly in India and some part of South Asia. The meaning of Raksha Bandhan is "Bond of protection". The traditional way of celebrating this festival is sister tie Rakhi (Raksha Bandhan) on the wrist of their brothers asking commitment for their protection and they receive gifts from their brother in return. Those siblings living far away exchange rakhi and gifts through different methods. Exchange of rakha bandhan messages is also a common gesture.

Here we are presenting a wide collection of Raksha Bandhan messages for you and your sibling that will surely touch your soft memories lying deep inside.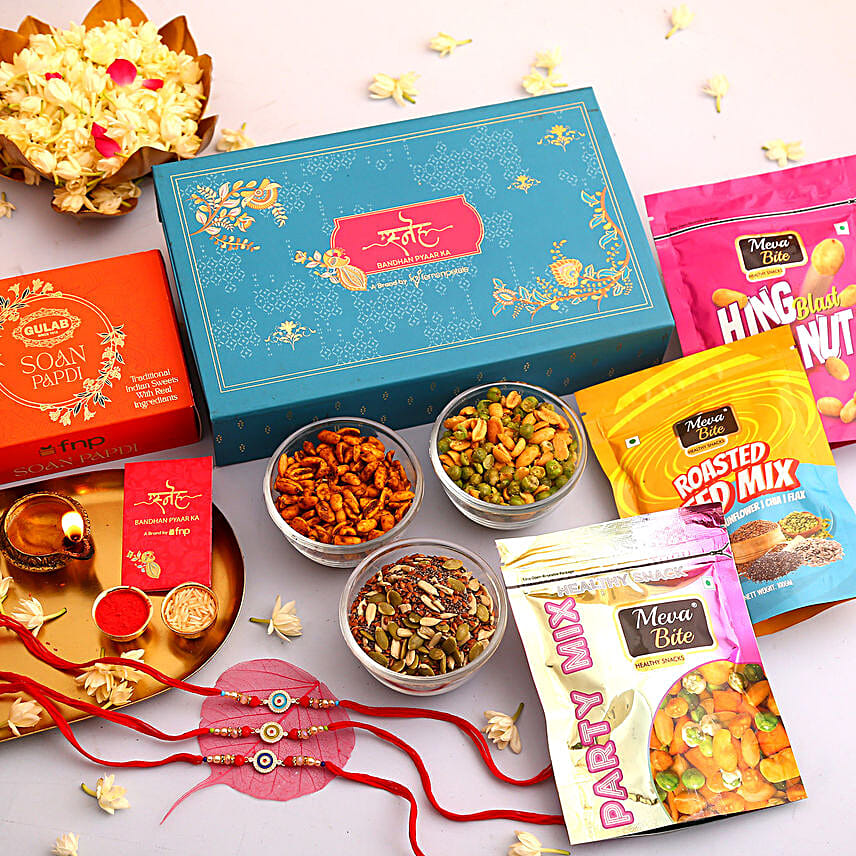 Rakhi Messages in Hindi

Rakshabandhan is the festival of Hindus and it is mostly celebrated in India and South Asia. In India, most people speak Hindi, it is important that we share messages in language with which we have grown up. If you are not able to unite with your sister or brother on the occasion, send them Rakhi messages in Hindi and wish them with deep feeling. Check our amazing collection of raksha bandhan messages written in your own that is the Hindi language.

Rakhi Memes

Rakhi is the festival to take a vow for the protection of each other. The Rakshabandhan alias Rakhi is the symbol of the commitment. On a lighter side, this festival is an occasion which brings siblings together and makes their bonding stronger. During the process many hilarious moments are created, our Rakhi memes present the same. Share memes with sisters and brother to add laughter in the moment. You can combine memes with emotional raksha bandhan messages to deliver your feeling for your brother or sister.

Rakhi Wishes Image

Funny Rakhi Messages

Rakhi Funny SMS

Jokes on Rakhi

Fun on Rakhi

Rakhi Memes

Memes on Raksha Bandhan

Rakhi Memes for Sister

Raksha Bandhan Messages for Brother

I am your brother and you are my sister, there is a lovely bonding that we share. Surprise your brother sending wonderful Raksha bandhan messages on the day of the festival if your brother is not able to join you. We have an awesome collection of rakhi messages written by a heart filled with love for a brother. If you have not sent rakhi to your brother, not an issue, wish him with a message equivalent to a rakhi.

Raksha Bandhan wishes for Sister

Siblings share a strong bonding of love. The festival, like raksha bandhan refresh those memories and take us back in our childhood. We wish you celebrate this festival with family, but, because of any reason if you are unable to be with your family this raksha bandhan, don't be disappointed. You can still make your sister feel your presence by sending her a lovely gift and charming raksha bandhan message. We have an amazing collection of raksha bandhan messages for sister. Our rakhi messages have been drafted to express the deepest emotions.

Related:Rakhi Quotes

Raksha Bandhan is a festival that celebrates love among siblings. You celebrate it with fun and fervour every year. Just like you have added Gen Y shade in everything, do the same with rakhi as well. If you want to give this Raksha Bandhan celebration a new flavour, embed our essence in it. Send eloquently written rakhi messages to your sister/brother to pep his/her mood right at the start of the day and beef up its delight as it heads.