Last Updated:
June 04, 2020
Good Morning Love Messages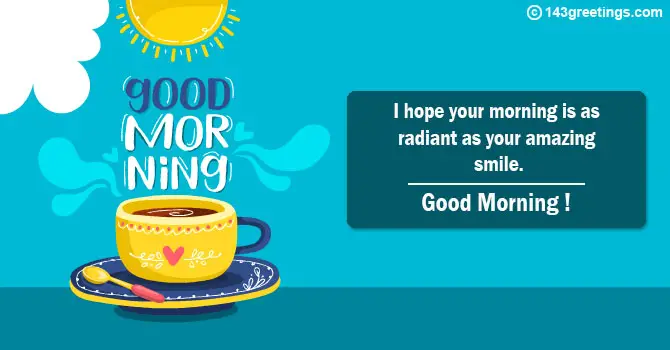 If you are receiving Good Morning messages from someone you love, then remember, it is not a usual message, it is way more than that. A heart-felt 'Good Morning love messages' means you are the first person coming in sender's thought after he opens his eyes. Similarly, if you want to tell someone that you love the person, and he/she is the first one coming in your thoughts, send the person love-filled good morning message every day.

This will give a kick-start to the day to both of you. If you will give love to people you love, you will receive love in return. So, either it's your wife, husband, boyfriend or girlfriend, do not forget to make the person feel special. And if you will start this gesture from the morning, its return will be unbelievable.

Find the finest collection of Good morning messages at 143greetings.com. We assure you that you feel great after reading this and will be inspired to write your own. Else, you can also copy and send the message.
A lovely good morning to my sweetheart. Open your eyes and see the beautiful day. It is awesome just like you. Love you.

Good morning my love! Open your eyes and welcome the wonderful day that has come with lots of surprises for you and me. Dying to see you, come soon.

Good morning honey. Leave your laziness and give a kick start to your day. Love you.

What a wonderful morning it is. I want you to see it. Leave your bed and stand at your window. We both would be looking the rising Sun together.

Good morning my love, you are my sunshine. Have a great day and remember, I love you a lot.

Love you my sweetheart. I want to have a quick glimpse of your cute face. Get ready and come soon. Good Morning, love you.

Hey girl, you are my love and I want you to be with me always. This message for you to make your morning, sparkling good. Excellent morning.

Good morning to my lazy love who hate waking up early. Get ready soon, my sweetheart, I am waiting for you.

Romantic Good Morning Messages

I always wake up with a pretty smile, do you know why? Because I always open my eyes looking at your picture. Love you sweetheart, good morning.

Now that you are the first person came in my mind after I opened my eyes, it becomes an obligation for me to wish you Good Morning. Have a great day, my love.

You are more beautiful than the dew drops, the flower bud, first light of the Sun. I want to start my morning seeing your face everyday. Good Morning Love.

Good morning to my handsome husband who made my every morning blissful with his hug. I love you sweetheart and will keep loving you.

Happy good morning to you dear, to make your day rockingly amazing, here is the highlight of the day 'I love you', 'I love you' and 'I love you'.

Good morning to the person who hold the very special place in my heart. I wish, you have a splendid morning.

Good morning to you sweetheart. Here are the best words coming from my heart for you. I love you, I love you and I love you.

Sending you good morning wishes every morning has become a habit of my life. I will not have a good morning, until, I wish you Good Morning.

Good Morning Messages for Him

Good Morning, my love. You are the cutest and greatest person I know. May you get everything that you want from this day.

Just like my morning coffee, you have become my habit which I crave for every morning. Lots of love to you my sweetheart. Good Morning, have a great day.

Lots of hugs, kisses and love to you my darling. Good morning, have a happy and fun filled day.

Good morning sweetheart. My last night dream was full of your thoughts, and so today I have a wonderful morning. I thought to share my feelings with you to make your morning great.

Good morning sweetheart. I thought I should wake you up with my thoughts, so, have a cuddly, bubbly and sweet Good Morning my love.

I am dying to see you, so, here is the good morning kisses to you with a hope that today you will leave your bed early, and will come to see me soon. Love you dear.

Wishing you a great and rewarding morning. May you have the best of everything today. I am missing your hug a lot, come soon.

Last night I had a dream that I am eating breakfast in our favourite restaurant. Today, I wanna live that dream. Good morning, I know, with you, even my wildest dream can come true.

Good Morning Messages for Her

Your good morning messages are more effective than 10 cups of coffee. It gives a refreshing start to my day without any issues. Love you my love and will keep loving you.

Wishing me good morning has become a kind of ritual for me, opening my eyes after hearing the bell of your good morning has become a habit for me. Good Morning Sweetheart, I love you.

Mornings are beautiful but mine becomes radiant after your good morning message pops up on my phone. Good morning sweetheart.

The wait is over, after the 12 hours of long night, the morning has come. Leave your laziness behind and come fast. I am missing you a lot. Love you.

Every night I dream to have a splendid day with you. Every morning I live my dream. This is the most beautiful fact of my life. Good Morning sweetheart. Let's live my dream.

Last night I saw, you kissed me on my face, lips, eyes, cheeks, chin almost everywhere. I want to live this dream as soon as possible. Wake up, Good Morning.

Good morning my sweetheart, you are cool as ice and hot as fire. But I have the ability to change your tendency in any form, because I'm the water.

Good morning my cute, lovely, innocent, beautiful, pretty, girlfriend. I love you the most in this whole world. Love you.

Good Morning Message for Husband

You the first person I think about you after opening my eyes in the morning. You are last person come in my thought after I close my eyes in the night. Good Morning, my sweetheart.

It is your pretty face that make my day. I love you my dear husband. Good Morning.

Your morning kisses and hugs means a lot for me. These two things make my day and gives me a happy good morning.

Good Morning, my sweetheart, in my last night dream I saw you coming with morning bed tea and breakfast for me. Now, I wanna say, thanks for everything.

No matter how far you are from me, you will always be closest to my heart. Love you sweetheart, Good Morning.

Life is short and I don't wanna waste it thinking about all wrong and right. All I know is when you are with me, I'm all fine. Love you sweetheart. Good morning.

You are far away from me, but extremely closer to my heart. I will keep loving you, till I breath last. Love you darling.

Good Morning Messages for Wife

No matter how old I get, I will never stop loving you, the way I do today. You are my life and I want to spend with you all my life. Love you sweetheart.

I promise to be along with your side forever. Wishing you happy and healthy good morning, my life, my partner.

Your kiss is my hot cup of coffee. So, I never have a dull morning. Thanks for boosting my power and giving a refreshing start to my day. Good Morning.

You are the queen of my heart, my lifeline and the love of my life. Without presence make my life pristine. Love you my darling, tell me forever you will be mine. Good Morning.

It is the bright new day, and I am waiting to share its every moment. Wake up and give me a hug. Love you, Good Morning.

I cuddle you everyday because this makes my morning bright. Have a great day my darling wife. Good Morning.

Like an angel you have made my life a heaven, thanks my love. Wish, you have a great day. Good Morning.

Every day is a new day that nature gives us, it comes without a past and future. And therefore, the morning is the most beautiful part of the day. Starting it with a positive and love-filled thought unarguably make it one of the best time. Good morning love messages fulfil the purpose.

Whilst we have prepared good morning love messages for you. You sit, relax, open our collection, find a befitting message and send it to the person you love.

Tags: birthday wishes for niece, birthday messages for niece, birthday sms for niece