Last Updated:
October 20, 2020
Wedding Wishes For Sister
Watching the wedding of my sister was a kind of mix moment for me. At one side, I was happy for her big day, had lots of blessings for her upcoming life. On the other hand, I was sad that she would no longer be at home with us. She would not be available for us round the clock.

The wedding moments of sisters are like that. The sisters never want the best wedding wishes for sister because they perfectly convey what they want to say with expression. And trust me, these are numerous sniffs, smile, eye rolls and a long list.

Still, if you want to wish your sister on her big day, it would be a bonus for her. You can share heartwarming wishes for your sister taking the help of our amazing collection. Here, we have tried to pen down all the expressions in words that sisters may have on this big day.

With the hope that our collection offer you wishes and messages that you secretly want to share with your partner till date, 143greetings.com also wishes you sister, a great wedding day!

It's lovely to see you starting a new life, all my wishes and love for you and your partner. Have a never ending love life. I will miss you a lot, sis!

Like your habit, you will make your new home a heaven again. For you its easy. It will be difficult for us to manage without you. Have a great day, sis. We all going to miss you!

As you are going to start your new life, all our wishes and blessings with you. We will miss your presence, but it's fine, I will manage. Love you sister!

Not sharing my things and room with you will be cozier for me. But not having you around to solve my day to day issue will make me miss you a lot. Happy Wedding Day Sis. You stay in my heart!

Things will change after you, back in my life. But this is all life about. Will accept the change with a heavy heart. Wishing you good luck for the coming life. Happy wedding day, sister!

Good luck for your present and future. Your sister is the going to miss you the most but for your good, I'm happily letting you go. Happy Wedding day my lovely sister.

Hey sister, I hate tears and so you. The deal is we both will not cry when you will leave the house. Love you, Happy Wedding Day!

Happy wedding day to my lovely sister. Till date, I have never said this. But today, I can't resist my feelings. You are the dearest sister and I love you!

With lots of love in heart, I want to wish you best of luck. You are lovely and cute, I am lucky that I'm with you. Wish you happy wedding day, sister!

Congratulations for your new life! May lord showers his choicest blessings on my sister and her loving partner. Happy Wedding Day!

You know well what I'm feeling today. But, you don't know one thing, that I am a great actor. Dear Sis, after you, your hug, care and love are the things that I'm badly gonna miss.

I'm so happy for you today that I don't have words to express my feelings. Love you sister, happy and happiest wedding.

May you and your partner have a blissful life. Happy wedding, my beautiful sister. You are the most amazing person, I know.

Life is beautiful with you, don't know how it will be after you. But hoping to see you smiling for the whole life with your beau.

Dear sister, you are the best partner, a great daughter and would be a lovely friend. Wish you wedding day.
Funny Wedding Wishes for Cousin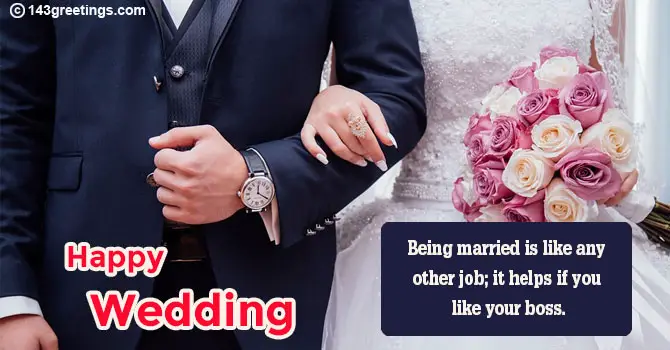 Dear sister, you are the best in this world, and I love you a lot. But I am also going to enjoy my freedom without you. Happy Wedding.

It is really heartbreaking to see you going. But I wouldn't miss your presence in my room. Happy Wedding sister. I will miss you a lot.

Dear sister, you are best and I will miss your everything from our fights to unwanted advices. Happy wedding!

There is nothing that I'm gonna miss after you except your purse full of cash. Happy Wedding dear sis!

Lots of wishes to you on your wedding my lovely sister. And all the best to your partner. May God give him all courage to bear you.

Dear sister, now that you are leaving this house, I am happy that all your things will be mine, including your bed. I am soo happy. Happy Wedding.

Now you will get everything new from a house, room to the car and all luxuries. Don't forget that I'ill also get all the things new. Your room will be mine now, and that to, forever. Happy Wedding Day!

Lots of wishes to you for your wedding. May your partner get all the courage to bear you for the whole life. Happy Wedding sweetheart!

Don't worry about mom and dad, they will be happier without you. Happy wedding day, dear!

Dear sister, even your darling cat (kitty) is not ready to come with you to your new home. But we all will miss you here. Happy wedding!
Wedding Wishes for Sister Messages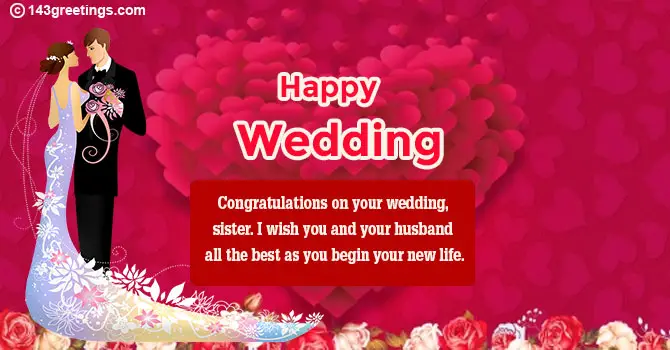 You are sweet, you are cute, you darling. You are the one I never want to be separated. For all your love and care, thank you!

Oh my sweetheart, you are going to be the best bride and wife. Love you a lot, and lots wishes for your big day.

When you will walk down the aisle, I will be holding your dress from behind. Will not look into your eyes, because it will fill with tears on ur special day. Love you my sister, have a great wedding day!

Happy wedding day to the most beautiful bride on the earth. For me, you are the most adoring and big hearted sister as well.

Best wishes to my sweet and beautiful sister. You are going to enter into a new life. All our wishes with you. Have a memorable life. Happy wedding!

Many-many wishes to you. May you have a love-filled life. All your dreams come true and things around you become blissful. Happy Wedding!

Happy wedding to my lovely sister. I adore you to the extent of becoming like you. So-so happy for you. Happy Wedding!

Lots of cheers to the bride and many more for the groom. Lots of love on your big day. Happy wedding.

You are perfect and I wish you wedding day be as flawless as you. Happy wedding my sweet sister.

Things will never change for you at home. It will be just like what you have left. Happy Wedding!
Funny Cousin Wedding Quotes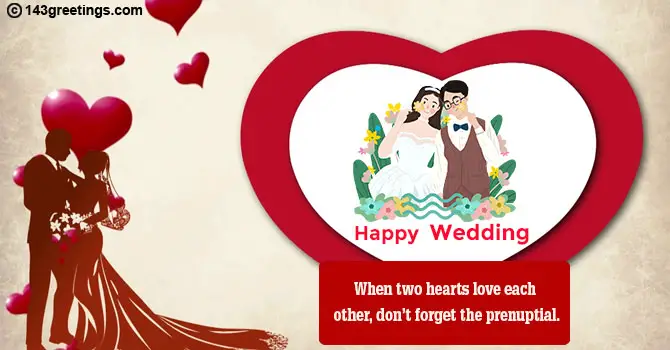 Wedding is the last day when a couple smile by heart. Happy Wedding.

No matter what, now your partner will never leave you alone. Lots of wishes for wedding.

I wish you have a happy wedded life. With lots of love, your's would be wife.

No drinks, no smoke, no late night parties. This is the first side effect of a wedding. There are many others, you will know after.

Wedding is a kind of sweet that unmarried people crave for and married people regret for. But, both yen to taste it.

Love babe, love you darling, love sweetheart! Get accustomed to all these words as things are going to change after the wedding.

The marriage is all about giving and expecting nothing. The more you will give, the more you will have to. Happy Wedding.

The wedding is a sweet poison that will make you sick and very sick without even giving a clue of it. Happy wedding!

Congrats for your wedding! Note: Happiness in marriage is an over-rated feeling.

Now you will how love kills. Happy wedding.
Find the best wedding wishes for sister and make her day special by sharing your feelings. There is nothing more compelling than receiving love from sister that to on a special day.
Tags: wedding wishes for sister, wedding messages for sister, wedding sms for sister