Like the T-bulb, you brighten every corner of my life. Thanks a lot sweetheart, you are amazing.
You are such a wonderful friend, sometimes I feel replacing you with my boyfriend. I wish, if this would have been possible.
When I count all the good things in my life, you turn as the best thing I posses. Thanks for defining my life this way and making it so wonderful.
I never shared with you, but today, I am telling you this, you are my best friend, only you know all my secrets. Thanks for listening to me without judging me.

Friendship is the best relationship in the world. After coming into your company, I too have started believing in this statement.
I am your biggest fan, I won't shy away expressing this. May I have your autograph please.
Message For Best Friend Forever
If you ever want to know your importance, check yourself from my angle. You will find yourself the luckiest person on the planet.

You have helped me reveal so many things about me to myself. Your simple tips have changed my life drastically. I don't have words to thank you for this favor. All I want to say, I love you, and you are my best friend.

You are the example of a best friend! Like a potter, you have mold my life beautifully and have given it a wonderful shape. Thanks a lot dear, I owe you a lot.

When you are around, every cell and tissue of my body blush. This is all because of the magic of your personality.

I miss those days, when we used to sit for hours making plans for the future. Though, our plans succeed, we are now successful, but sadly we are no more together. I wish, had we not planned life this way, we would have stayed together, forever.

We are miles apart, but our hearts are connected. We have grown old, but our bond is sweet and stout. I miss my best friend's company, want to see you soon.

Our friendship is unbreakable, impenetrable, insoluble, flexible and it outshines gold. Love you, my sweet friend, we will share the same bond even when we get old.

You have been with me in all my ups and downs, you held my hands, tight enough not to be broken by hardest storm. You are the person I want to leave never. Dear, today, I say, thanks for being my best friend forever.

I know, I will remain your best friend for lifetime, because, you are too lazy to find a person like me, so pristine.

I have found you after a long scrutiny, will not let you go ever. You are my best friend today and would be forever.
Funny Message For Best Friend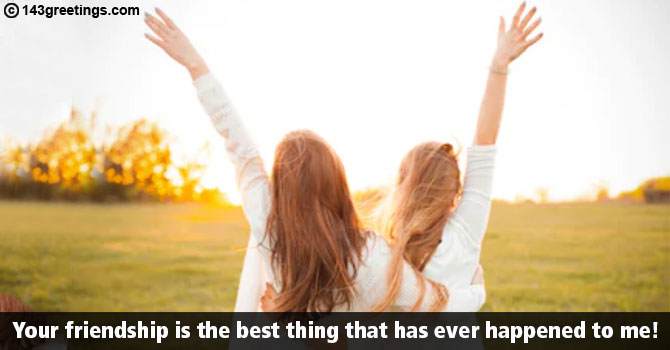 Hey may honey-bunny, you know why I decided to make you my best friend? Because……. You too are a gossip lover, just like me.

When you and I sit together, even God prays for peace in the world. I am proud, we are such a deadly combination.

My parents say, you are in a bad company. I have heard your parents saying the same thing about me. I wonder, what they really mean. Is it like, we both are…….

I have hundreds of friends, but I choose you as my best friend. Because, we both talk senselessly and understand each other's talk thoughtfully.

The day you answered my question "What came first, the egg or chicken", I decided that you will be my best friend.

Until we separate, nothing can stop us coming, under the bad influence.

Together we can fight with anything, except our foolishness.

People are jealous of us! Because, we have set example that two girls can be best friends too.

Now you have become like me. People have started calling you, senseless. You should thank me for this.

I know you are fed up of me, but I also know, you won't get a new friend, because you are too lazy to make friends, and start the whole process of friendship. So, chill with me, I am also not going anywhere.
Emotional Friendship Messages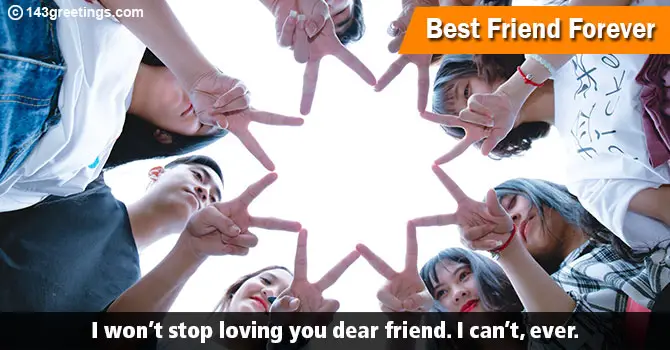 Our friendship is like red bull for me, it gives me the push I need to get what I desire for. Thanks for all the support, dear friend.

If ever I feel like checking myself, I look at you. You are my Xerox copy. No one knows me better than you, love you for everything.

According to you, you are my best friend, but if you ask my feeling, then you are my shadow, you have same silhouette and never leave me alone.

You are my shadow that never leaves me alone, even when it is dark.

Spending time with you is like doing meditation, the more I talk to you, the more I know about myself.

I am lucky that I have a friend who loves me like a lover, care for me like a mother, understand me like a sister. Thanks to such a wonderful friend.

I came to you with a broken heart. You didn't try to fix it, but you replaced it with your heart. Thanks for the lovely support my dearest friend.

The wisest decision I had taken till date has been, making you my best friend. After that, nothing wrong has happened to me. Thanks for all the support.

The life of our friendship is long, it will be, till there is water in the river, stars in the sky and till I die.

I get hurt the most, not when someone slaps me hard, instead when you chose not to talk.
Heart Touching Friendship Messages
Your silence is more painful for me than anything else. So, keep talking to me no matter what.

You give me the strength to win the world, and without your support, I am no where. It is your friendship that has made me a winner, I thank you for everything my dear.

For me, friendship is the bond that never ends. Once it begins, it will remain till my life's end.

I am lucky I have go you as my friend, now I don't have anything to complain. You are the best gift of God, love you.

Just like chocolates, our friendship also melts, releasing sweet flavors that last for long.

Our friendship is like the river and sea, we both have independent identity, but when we are together, no one can judge, who is river and who is the sea. Love you dear.

We are more like sisters, then friends. Might be, we have met to become siblings once again. Lots love to my best friend.

A coffee would not have not tasted better, had it have not met its friend, sugar. Similarly, I would have not become so good, had I have not got you in life as a friend. Thanks for all support and love, dear friend.

A true friendship never demands sorry and thanks, but our one friendship has crossed all the limits of help, and so I can't stop myself thanking you again and again. May, lots of good fortune come to you.

We are separating, but make sure, we are parting just physically. Our heart and soul will remain connected. It is an old saying that true friendship is not about the association, it is about nothing change, even if separated.
If you want to share with your friend what is their significance in your life, or you want to giggle him/her with your messages, then check cute msg for best friend collection to get a befitting text to send. Here, we have assembled powerful expressive words to extract feeling that expresses your emotions. Find the best messages, and share it with your friends to strengthen your friendship bonding and make it fun like never before.
Tags: cute messages for best friend, Cute wishes for Best Friend, Cute quotes for Best Friend