Engagement is the first step of marriage. A couple getting engaged requires blessings from people who are important in their life. These days, couples organizes grand engagement ceremonies to announce that they are getting married soon.

When you are invited in engagement of these lovely couples, you are required to carry some gift that reflects you are happy for them and your blessings are always on their relation. Selecting an engagement gift is not a big deal, because there are lots of options present under the category gift ideas for engagement. However, if want to personalize your gift or be little different, you need to hover some options to get an apt present for the would be bride and groom. While selecting an engagement gift, there are certain things that you should keep in your mind.

This is the gift that everyone in the family will see, therefore it is important that you select the gift according to the occasion and it should be worthy.
Select gift considering the likes and dislikes of the couple.
The gift should be usefulto the couple even after the wedding.
It should have some sense of happiness emotions.
There is no shortage of options for an engagement gift, and you can easily pick one by stepping in a good gift shop. Nevertheless, some tips to buy engagement gifts can help you to pick a suitable present for the lovely couple. Here, presenting some gift options that you can buy for engagement occasion.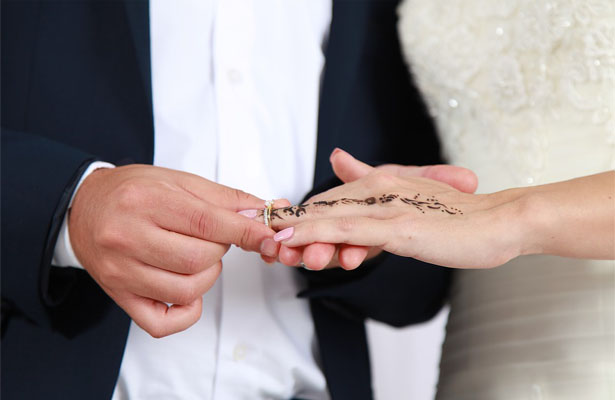 A Fresh Bouquet Of Flowers - Many thinks, it is wastage of money as flowers are of no use after a couple of days. But, fresh flowers, especially the roses have its own place and it wonderfully express the emotion of love. You can present a fresh booklet of flowers to a lovely couple on the day of engagement with a commitment that you will come with a gift on the day of wedding. While selecting the bouquet, you have to ensure that you are picking flowers according to the taste of would be bride and groom.
Home Decoration Article - If the couple is getting married soon after the engagement, then you can gift them home decoration articles such as, night bulbs, hanging bulbs, fragrance candles, wall painting, a collage having their pictures, etc. You can visit stores like Archies or Hallmark and you will a good collection of such gifts there.
Engagement Gift Basket - The engagement gift basket comprises of many things like perfumes of brand like versace, calvin klein, couple watches of brands like Daniel Wellington, Rado, double bed sheet of , blanket, chocolates, collection of dry fruits, etc. You can buy a gift basket for the couple, it is also a great gift option.

What If You Want To Get Personalized?
If you are a good friend of of couple, then certainly you would desire to present them an exclusive gift with some personalized touch. You must be aware of likes and dislikes of this couple, and so it wouldn't be hard to find an apt gift for them. But, if you are short of ideas and need some inspiration, then here we have some collections that can help you to come up with a unique as well as a gift with a personal touch.
In case the couple is a wine lover, then you can present them a nice wine cooler Engagement is the beginning of celebrations. The couple will be encircled with party after that and an ice cold fizz is the first take that keeps the party fever continued. Present a stainless steel wine cooler to couple with their name engraved on it. Your friend turning groom or bride will surely cheer up looking at this wonderful idea and possibly keep this with them all through their life. Some of the brands you can go for are Ivation, Nutrichef.
Heart shaped Padlock for a romantic couple - If you know the couple, and had been in relation for a long year, you present them a heart shaped padlock, which is the symbol of unbreakable love. Go one step ahead and get their names engraved on the lock and place a small heart in between. The couples would love this gift script and will give you lot of praises for this creativity.
Teapot made from Bone China - The feeling of having tea after reaching home with your partner sitting on the couch is a special one. For adding romance in this moment some extra effort is required. The normal cups will not bring the same essence. So, buy a bone china teapot and give this toa lovely couple who loves spending time with each other. Pick a well-designed bone china teapot with the name engraved on it. You can also engrave initials of their name and place a heart between to give a personal touch to this gift.
A nice crockery set By Corelle Or Lopala - After the wedding, most couples require kitchen and home decor items to set up their new place. The crockeryset is a great gift option for these couples. You will come in their memory, whenever they will open the set to use. To give this gift a personal touch, again, you can engrave the first letter of couple.
Key Rings With Two Hearts - You can combine this gift with padlock or you can give it individual as well. It is a perfect gift for lovebirds. This one is an elegant, classy and have great utility. While choosing a keyring, make sure you are adding some essence of romance in it. Pick keyrings with heart and engraved the name of couple in it to give it a personal touch.

There are many gifts, present that you can choose for the occasion of engagement like an album where memories are preserved, wall watch, a fruit cake, champagne bottle with engraved name, etc.

When you are presenting a gift to the couple, take a step forward and add personalization in the gift. This you can do either by engraving their names on the gift, imprinting a heartfelt quotation on it, or presenting it with a good message. You can pick message for the occasion from 143greetings.com. The platform has wonderful collections of messages that deeply reflect emotions of various relation. You can find here messages for different categories such as, anniversary messages, belated anniversary messages, birthday messages, farewell messages, love messages for couple, engagement messages and much more. Pick messages expressing your feeling for the couple getting engaged and become the party attraction.