Last Updated:
14th December, 2020
Honeymoon Wishes
Honeymoon is a beautiful phase for newly married couple. It is finally the period of time when after all the rituals of wedding has been celebrated the love birds flew away to celebrate their own time and space. The moments and memories that remain forever and moreover the honeymoon is meant to know each other as in couple to know better and can rest and enjoy their precious time. Honeymooning is a fashion trend which has been with us since ages now and what waits more is when they come home, as a relative, friend, sibling we can always share them our bite of love and make their honeymoon more sparkling and shining. Find your bite of love here and send them across.
I'm happy, my sister is starting her new life with an exotic and romantic honeymoon. Enjoy  your time, and be safe. Happy Honeymoon!

So sweet to see you heading for the honeymoon. Trust me, this is one of the best parts of marriage. Happy honeymoon!

Oh! It's the ho-ho-ho-ney moon time! I'm too excited to wish you, happy honeymoon, sweetheart. Have a great time!

Great to hear that you are going for honeymoon at such an exotic location. Have a wonderful time sweetheart!

Discover yourselves both of you and know each other better and come out as a beautiful strong couple. Have a happy honeymoon!

The love birds try all the new food, new places, new streets and capture the moment that you can cherish forever. Happy honeymooning!

Take photographs to let us also visit the place you have been to, shop around and buy something unique. Have a gala time on your honeymoon!

Spend your days in spa and relaxing and then get up go to party enjoy your journey from bachelor to couple now. Happy honeymoon!

The warmth of love will make you grow and glow more, have a good time knowing each other. Happy honeymooning!

To the newlyweds and the love birds, click all the cute pictures and kiss on the streets because no one's watching. Happy honeymoon!

Europe, Switzerland or where you go, you are going to miss homemade food so fill your tummies now. Have a happy honeymoon

Honeymoon is the beautiful period where you two only get enjoy yourselves; just don't leave each other's hand. Happy honeymoon!

Happy anniversary dear mom and dad, may I have your day please. I want to spend time with you guys.

The wait is over; your tickets are here but remember you send every picture to us. Have a happy honeymoon!

A vacation is much needed after so much of food, rituals and people. Enjoy yourself out, we will miss you. Happy honeymoon!
Honeymoon Wishes for Best Friend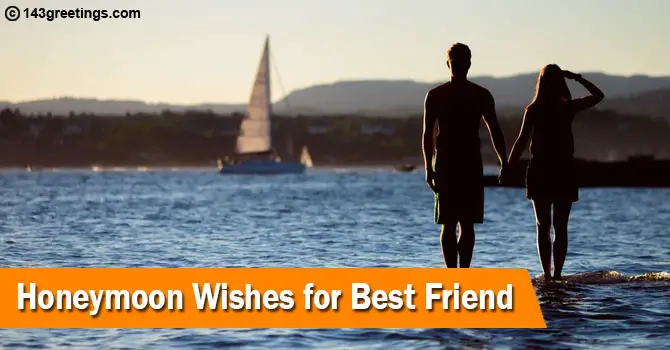 Remember the checklist that we made, tick it all with your partner. Have a happiest honeymoon best friend, I love you!

Wear all your amazing that I had gifted you and send me pictures. Enjoy the each moment with your life partner. Happy honeymooning!

Dreams do come true and I believe this by looking at you, you go girl. Take care of him, have an amazing honeymoon!

Strict warning: Do not forget to shop for me where ever you go and then we will twin. Let your husband be jealous, happy honeymoon though!

No matter if you are married we are still best friend and you will have to give me every update about each day, I love you. Happy honeymoon!

Video call every day, things does not change if you are married. Have a blasting day there and enjoy your honeymoon!

And finally you are there with your perfect partner as much as we thought we got a guy for you. Enjoy your honeymoon babe!

Go for candle light dinner, go to club and party, go get a tattoo of your partner's name. Kidding! Happy honeymooning!

Dance, remember we use to think that you will dance out with your partner as if you don't care, dance yourself out babe. Happy honeymoon!

Love birds flew away, I am so happy for you dear. Hope you enjoy your honeymoon to the best, love you!
Funny Honeymoon Wishes for Friend
To the most romantic couple, may your honeymoon be exactly the way you fantasized. Wish you the amazing journey.

May your honeymoon be filled with lots of love, romance, hugs and kisses. Have a happy honeymoon period darling!

Who would have thought even you will go to honeymoon, kidding buddy! Enjoy your honeymoon period to the fullest!

Finally your "perfect partner" is taking for the heavenly ride, hope you don't start taking his autograph now. Happy honeymoon!

Go to public places and make your appearance as I am of the V.I.P people back home, happy honeymooning!

Capture each other's moment and eyes whether are they following you or someone else. Hahaha, Happy honeymoon!

Don't go and start celebrating you bachelorette again there, you are going with your partner don't leave him/her. Happy honeymoon!

Don't get too drunk that you forget you were married also, and make sure you hold his hand. Have a happy honeymoon!

I love you but I pity the person you have married what he will do when he gets to know you. Happy honeymooning, waiting for the updates already!

Oh hope you an amazing honeymoon period and you don't come back alone!!! I love you best friend!
Honeymoon Wishes for Hotel Guest
Dear sir and ma'am, hope you have an amazing stay with us enjoy your beautiful moments. Happy honeymooning!

We have a special night for newly married couples, hope to see you tonight. Have a happy honeymoon period!

Honeymoon is the best period of the newly married couple, hope you have an amazing stay with us. Happy honeymoon!

We have got the best things arranged for you, as you have planned. Enjoy your honeymoon and let us in case you need anything!

We are at your service 24*7, we would you to celebrate your honeymoon period with the beautiful stay. Happy honeymooning!

For parties and clubbing we have got our house open till mid night, in case you want to join us. Have a happy honeymoon!

May this be the most romantic trip for you both and you collect end number of memories with you. Happy honeymoon!

May you experience the best in your honeymoon time and hope you have a bag full of memories and love. Happy honeymooning!

With each of your honeymoon, you get a head of every step towards each other and enjoy to the fullest. Have a happy honeymoon!

Hope you enjoy your journey of love and discover lot of things about the place and about you two. Happy honeymoon!
Honeymoon Message for Husband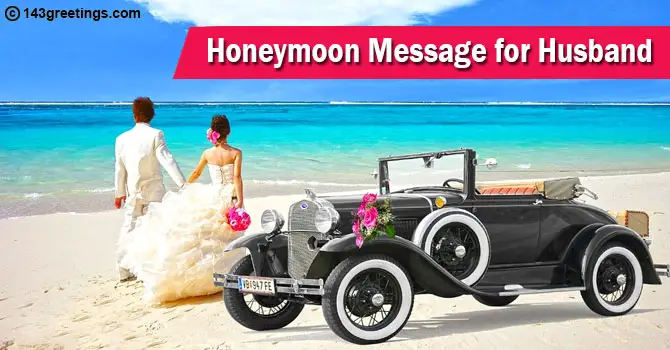 Hello Husband, I consider myself the luckiest to having spent the most amazing period of my life with you. Happy honeymoon baby!

From butterflies to dragonflies, I have finally cuddles myself up in your arms and felt every emotion. Have a happy honeymoon!

The feelings have to rest when finally I could feel you and every breath of you. Thanks for an amazing honeymoon!

My heart still skips a beat when you we make love but thank you for let my heart skip the beat because of you. Happy honeymoon hubby!

I still can't believe I am at my honeymoon period, staying and slaying at the hotel with my one and only. Thank you amazing surprise and honeymoon!

I can rest my head on your shoulder for today, tomorrow and forever. I love you darling. Happy honeymooning!

You make me go gaga about this feeling and I love you husband! Thank you for the giving the best!

I am head over heels already to having spent the honeymoon with my happy place. I love you!

With my favorite and my all time go to person, Thank you spending the rest of life with me. I love you and this honeymoon too!

Just as I thought you made it more special for me dearest husband, I love you and thank you for everything!
You may send these special first night wishes messages to the lady and lucky man by means of Face book, Twitter, Email, Google Plus or utilizing other web-based social networking. Likewise, the companion may expect a special night welcome card from you. Along these lines, it will be marvelous on the off chance that you send a note or card appending a sweet special first night message from this post.
Happy Honeymooning!
Tags: honeymoon wishes, honeymoon messages, honeymoon quotes, honeymoon sms