Last Updated:
30th October, 2021
India Independence Day Messages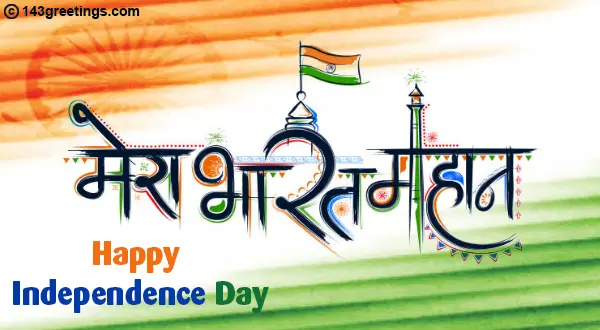 India Independence Day is celebrated on 15th August. The 2020 Independence Day will be celebrated on Saturday. The day is declared as the national holiday for all Indians and this is a common festival for all Indians. For most Indians, Independence day is like the national festival and everyone has a different idea to celebrate this festival. Many celebrate this festival watching Prime Minister's speech on television and many engage themselves in charity work. The fever of Independence Day can be seen on every nooks and crannies of India. It is celebrated by people belongs to different castes, religion, color, language with the feeling of brotherhood. Sending patriotic messages on the day is also the part of Independence Day celebration.

Here are some Independence Day messages that you can send to your friends, family and love ones.
15 August is the day when when India celebrate its freedom day. In 1947 on 15 August, India got its freedom and declared as a free country. From that day, every year India celebrates this day as Independnece day. In 2019, the country will celebrate its 72nd Independence day, which is a big reason to proud. After Independe, India has emerged as a peaceful country and have become an icon in many fields for the World.

When it comes to the celebration of Independence day, the people of India consider Independence day as a festival and everyone has a way to commemorate this special day. Watching the speech of Prime Minister at Red Fort, flying kites, engaging self in charity work is some of the way people honor the day. Not to forget, sending Independence day messages to friends, relatives, love ones and wishing family member is also the part of this celebration. Updating whatsapp status with patriotic message is a new trend.

Here is a unique collection of Independence day whatsapp stutus you can use to show your patriotism for the nation.