Last Updated:
Septemer 1, 2020
Daughters Day Wishes
Daughters are a symbol of love. Without them, a home seems incomplete. She is one of the strongest pillars of a beautiful and happy home. Therefore, daughters deserve tremendous love, respect and care from people around her.

To honour this beautiful spirit, the world has announced 27th September the day to celebrate as World's daughter's day. Many countries of the world celebrate this day with great zeal and enthusiasm. However, the daughter's day doesn't see many formalized events, home events are more common. The celebration starts with daughter day wishes on cards, text and call followed by sharing of flowers, cards, gift. The celebration is done to recognize the efforts and potential of a daughter.

This daughters day share the best of daughters day wishes with her presenting your true emotions. To help you with the same, we have already prepared the daughters day greetings and messages collection. Share this with her to bring cheer on her face. We would like to end this with this quote daughters are the greatest gift. She is the one who makes the family complete.

You are the Sunshine, you are the raindrops, you are the blooming flowers, you are my first and last love. I love you, my sweetheart. May your shine never fades out. Happy Daughters Day!

The moment, you came in my hand, I promised to myself that I will give you the care best of my abilities. But I wasn't aware that one day I will receive the same from you. Love you sweetheart, happy daughters day from your loving Dad!

Happiness is spending time with my daughter. She is the one I live for. Love you my sweetheart, happy daughters day!

Good are those who have two sons. Lucky are those who have daughters. Happy daughters day to my lovely, sweet, adorable daughter!

Before you, I was like 'No girl had the power to control me'. Happy Daughters Day, love!

When you were born, you were my little angel. Now, as you are growing up, you are becoming my best friend. Happy Daughters Day to you!

It is difficult to describe in words, my incredible journey of a daughter's father. Thank you for being such an exemplary daughter.

You will always be my little girl no matter how old you grow. Love you, my sweetheart, I'm your proud mother. Happy Daughter Day!

To the cutest daughter in the world, happy daughters day. May you have everything stunning and amazing in life.

Daughters are the reflection of their mothers. You are my reflection and this is very true. Happy Daughters day to you!

When people compare you with me, I feel very proud. Love you, darling. Keep growing and making me proud of you!

With lots and lots of love, I wish my lovely daughter, happy daughters day. I never thought my daughter will turn into such an incredible personality. Love you my darling.

Although we are your parents and we must have taught you many things. You are the one who has taught us how to lead a lovely life, be focused and get the success. You are an inspiration for many. Love you my sweetheart and happy daughters day!

You are a blessing sent by God, your love is not restrained for a few. It is for the entire world. Proud to be your parents. God bless you, happy daughters day!

I wanna share a special feeling for you. I am your proud mother as you are the one who has changed me 360 degrees.
Daughters Day Quotes from Mother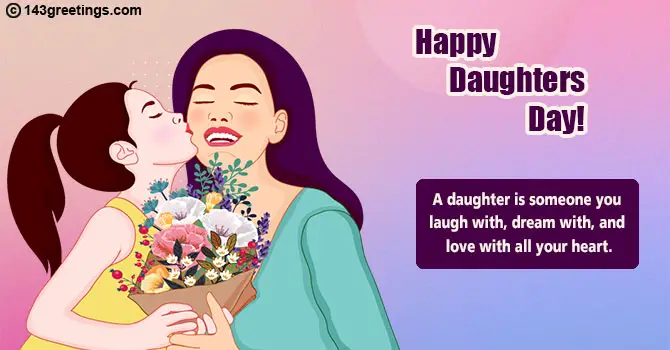 Your cute smile stole my heart when you born, your smart answer made me proud of you when you turned young, you have turned as an inspiration for me after becoming a successful woman. Happy daughters day to you!

Daughters are not just to be loved and cared. She is the one who should be respected for whole life for the contribution they made Happy Daughters day!

Feel happy if you have one daughter, feel lucky if you have two. Happy Daughters Day!

Daughters are the epitome of happiness. Without them, a home remains house. Happy Daughters Day!

Those who don't have daughter would never understand what value they hold in life. Happy Daughters Day!

Seeing your daughter growing as a woman is the biggest happiness for any parent. Happy Daughters Day!

She doesn't know how to hurt their parents. This is the beauty of a daughter. Happy Daughters Day!

I have three daughters, and my every day is a blessing. We hear cheer in every corner of our house. Happy Daughters Day!

A soft, cute and innocent looking daughter is a tough girl inside. Never underestimate her personality. Happy Daughters Day!

When my daughter says something to me, I listen to it carefully because I know it would be for my benefit.

A daughter is the pride of her father and the treasure of her mother. She is incredible.

Daughters are God's most beautiful gift to parents. Love her unconditionally.

Daughters are like sunshine that brightens the day.

Daughters spread laughter, they bring smiles, they are never short of love, they born to love. Happy Daughters Day!

Love of a daughter is always unconditional. She is always there to look after. Never stop loving your daughter.
Daughters Day Quotes in Hindi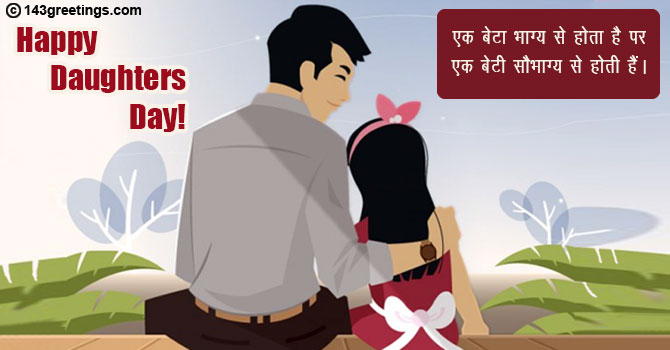 Beti hai tu jeewan hai, beti hai tu khush haal ghar aur angan hai. Beti hai tu Maa, Baap ko sahara hai, beti hai tu tumhara yam era nahin, hamara hai.

Jeewan mai khusiyon ka prateek hai beti. Wo hai tu saab hara bhara hai.

Agar aapke pass beta hai tu aap khushnaseeb hain. Aur agar aapke pass beti hai tu aap bhagyashali hain.

Wo kya jane beti ka peeta hone ka sukh kya hota hai, jiske ghar angan mai khilkhilti huyi beti na ho.

Wo mujhse ladti hai, jagadti hai, roothti hai, lekin sab kuch karti hai bas mere hi liye.

Hame garv hai ki hum ek beti ke Ma-Baap hain.

Meri beti hi tu hai meri poonji aur kya jo mujhe chahiye uski khusi ke siwaye.

Apni beti ko kuch dekhkar mujhe lagta hai maine apne jeewan mai sab kuch sahi kiya hai.

Jab beti kahti hai 'I'm proud of you Papa' samjho tum sabse safal papa ban gaye ho.

Usse paise ki darker nahin hai, na hi naam aur shoharat ka lalach. Wo tu bas apne ghar ko sundar banana mai hi khusi doondh leti hai. Kya kahon, betiyan kaise itni saral ho leteen hain.

Wo jab hasti hai saara ghar jhoom uthta hai, wo jab roti hai ghar mauus sa ho jata hai. Wo beti hi hai jisko apne Maa-Baap se sabse jyada pyar hota hai.

Ek beti apne Maa ki poonji hoti hai aur Peta ka garv.

Khate hain betiyan bahut masoom hoti hain, par jo ye kahte hain, unhein maloom nahin ki wo bahar se jitni masoom dikhti hain bheetar se utni hi majboot hoti hain.

Ek Beti ka Beti se Beti ki Ma Banane ka safar bahut sundar hota hai.

Ek beti ka peeta khalana khushi ki baat hoti hai. Aur ek kamyaab beti ka peeta kahlana khushnasibi hoti hai.
If you also have a daughter and you want to daughters Day wishes to her take the help of our collection. We have prepared it with lots of efforts and have tried to put in it all emotions. Like our other wishes collection, it is also fresh and will satisfy you.
Tags: daughters day wishes, daughters day quotes from mother, daughters day quotes in hindi