Last Updated:
Saturday, 16 July 2022
Inspirational Monday Messages
Many have a feeling about Monday----- it is boring and annoying. But, we say, it is actually the matter of perception. Monday is the first day of the week, it is not only refreshing but also a productivity booster day. Anyways, if you are feeling about Monday doesn't match ours, there is a need for changing the perception. With little change in how you see Monday and feel on this day, you can make it productive, if not interesting. To change your attitude toward Monday or to help you change the outlook of Monday hater friends, we have prepared an awesome collection of inspirational Monday messages. Forward this to your known ones to remove Monday sickness or read it to deal with it, in case you are also facing the same. Happy Monday.

The beautiful rays of the sun are nature's way of telling you that you are loved and you are special. So, never feel disappointed. I wish you a very Good Morning!

Every morning, you have two choices, keep sleeping with your dreams or wake up and chase them. It's completely your choice. Choose it wisely. Good morning!

Stay hopeful. You never know what this day may bring. Have faith in yourself and believe in hard work. God is there for you. Good morning!

The things you are passionate about are not random, they are your callings. Take your decisions in life very wisely. Good morning!

Wish You Happy Monday! May this Monday bring many positive news for you.

If you hate Monday, it means you don't love your job. So, better to change your job before it kills you. And if this is not the case, happy Monday.

For those who work hard, Monday is the day to set goals and prepare an action plan to achieve it. Happy Monday to all hard-working successful people.

Happy Monday! Start the week with cheer on the face, positivity in attitude, targets in mind and vision in the eyes.

Every Monday opens the door of opportunity. Start the week with a thought to change your present status, and you will surely win every battle.

Monday is the king of the week. Everything gets a beginning, I don't know why people hate it still. But, remember happiness is a choice. So be happy and enjoy the fun Monday.

Monday morning plan the goal, Tuesday morning push to roll, Wednesday morning run after the targets, Thursday Morning bring results, Friday morning enjoy the success. Saturday and Sunday have fun--------Monday morning plan, next run. Happy Monday.

A happy and rewarding Monday to my friend who hates this day.

There is no alternative to hard work, and success comes to those who do this. Monday is dedicated to the same. Happy Money to all who want to savour the success by their hard work.

Monday is the blank slate that gives you the opportunity to write what you wish to do during the entire week. Good morning to Monday, have a wonderful week.

Monday Motivational Messages For Work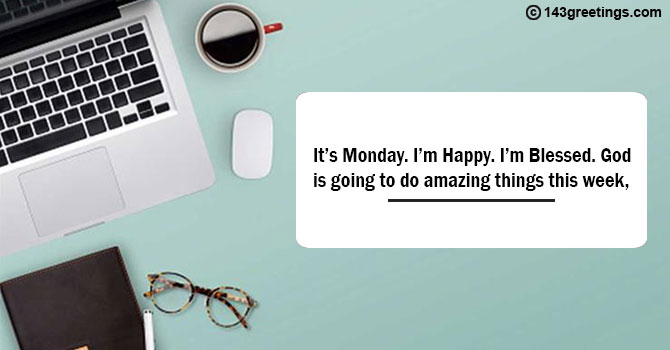 Good morning to Monday means, good morning to success as it is the day to make a fresh start. Have a happy Monday.

Good Morning! Have a cheerful Monday my lazy Monday hater husband. I wish the day remains full of opportunity for you.

Those who hate Monday, never dream of success. Those who love Monday, never required to dream of success. Have a cheerful Monday.

Happy Monday! No day is boring or rewarding unless you think so.

By hating Monday, you can't change your boss. Better, you change your attitude, maybe your boss stops hating you. Have a happy Monday.

Start your week with this thought, 'I am blessed, I am seeing this Monday. This week, I will do amazing things, break new records, accept more challenges and win all of them. Yes, this Monday, I will be better than the last Monday." And nothing will stop you.

If you find Monday boring, name it Tuesday in your calendar. The day will still be boring because the problem is not with the day, it's with your attitude. Have a happy Monday.

Monday opens the door for new ambitions, new targets and fresh goals. Start it with a cheerful face. Have a great day.
Monday Motivation Work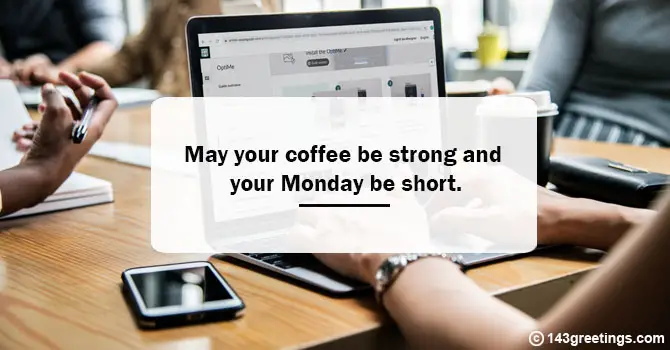 By mere hating Monday, if we could stop challenges coming our way, new targets that companies shape and opportunities that life gives, how wonderful it would be. But, fortunately, this doesn't happen. Happy Monday, enjoy the day.

After a rocking Saturday and relaxing Sunday, the Monday has come to take you on a new voyage. Have a wonderful Monday and a splendid week.

Monday gives you the opportunity to correct past mistakes, move ahead and achieve what you dreamt. Happy Monday, take it positively.

To sail in the deep sea, sailors don't try to change the course of the wind. Instead, they adjust with ship direction. Always look positive side of things and adopt change. Happy Monday, have fun.

Hey! it's Monday, a new day, a new start of the week. Welcome it with a cheerful face to receive all its grace. Happy Monday.

It's Monday, it's the time to open new files, take the new decision and shape up life. Those who work get success.

If you feel Monday is boring, exhausting and killing, plan a party in the evening to make it enthralling. Happy Monday, hope you love the advice.

Oh its Monday, I am too busy to die. Angles please come some other day, Byee byee!
Monday Motivation Tips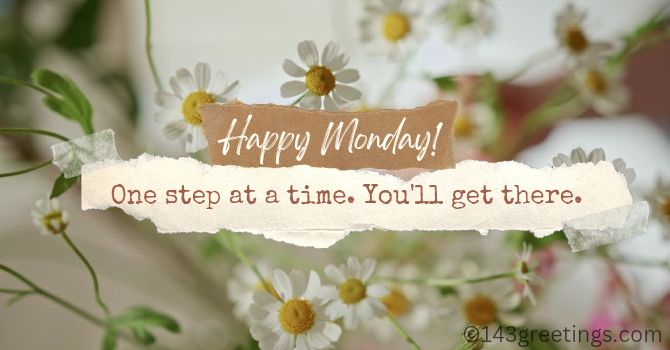 Wake up early in the morning to have some 'me' time for yourself. Enjoy the moment and you will start loving each day, either it is Sunday or Monday.

Prepare your to-do list on Sunday night, this will give you the motivation to work on Monday. Follow the tip to have a rewarding day.

You have two choices, either to be miserable or motivate yourself. Monday will come as usual.

The more you will panic and run away from something, the more you are going to see its dark face. Better you motivate yourself and enjoy each day. Happy Monday.

To have a cheering Monday, always start the day with this thought "Something wonderful is going to happen today'

To start loving Monday, start loving your what you do on Monday. Fall in love with it.

The day you will start loving your job, you will start loving going to work as well, either on Monday or on Sunday. Happy Monday to all my dear ones.

Monday is to plan strategies to have a splendid week. Don't waste it sitting ideal. Happy Monday to all my monster friends.
Monday Morning Quotes
Monday is the day to celebrate. Be so happy that when people look at you, they also become happier. Have a wonderful beginning of the week.

There is nothing about Monday to hate, it is a pleasant day made to celebrate. Plan your actions, give it a shape to enjoy the weekend without any need to hesitate.

Monday is just another day of the week, not a doomsday. Be cheerful and welcome it with a full heart. Happy Monday sweetheart.

Your constant hatred of Monday will not change anything in your life. But the minor change in attitude can bring a lot of changes. Have happening Monday.

God does amazing things on Monday, to receive all his blessings, leave your bed, get ready and move out with a cheering face.

I'm Monday, I am here, not to scare you but to take you on a five-day voyage that will change your life. Hug me tight, join me to see today's Sun which is beautiful and bright.

All good things start on Monday. So, welcome me with cheerful face or you will have bad fate. Have a happy and rewarding Monday.

Nothing is permanent, even the fear that Monday brings. It also allows you to find ways to overcome all your obstacles.
Our intent behind preparing the badge of inspirational Monday messages and quotes is to inspire people to go to work on Monday with enthusiasm leaving laziness behind. Hope this collection has positively affected you. You can share these messages among your friends and colleagues to motivate them to work. To help you find the right message, we have widened our categories. Enjoy Monday.
Tags: inspirationl monday messages, inspirationl monday wishes, inspirationl monday quotes