Last Updated:
Saturday, 16 July 2022
Wedding Wishes for Brother
Wedding Wishes for Brother: He is there to guard you when you are hurt, laugh on your jokes, teach you lessons that no one would ever do, your secret box, to give you a hug after your first breakup, guide you how to study, etc. Yes, we are talking about the big brothers. Big brothers are annoyingly mushy when it comes to taking care of younger ones. But remember, they too have a heart that yearns for love, respect and affection. So, when it is the wedding day of your big brother, tell him in wedding wishes for brother what you feel about him, how much you love him. Maybe, you won't have this opportunity again.
Wedding changes life, after the wedding, a boy turns into a different man sharing life with his partner. If it's your brother's wedding, say it, what you want to say. Things will not be the same again. We have prepared our wedding wishes for brother to help you.

Congratulations on one of the most special days of your life. Best of luck with a happy and prosperous marriage to two people who truly deserve each other. I wish you will have a wonderful and blessed happy married life. Stay happy and keep going, big brother!

Congratulations on convincing yourself to settle down. May the happy and crazy days start. Wish you all the very best in your life. Happy Wedding, my sweet brother!

Finally, you have got married even though you still look like a kid. May your wedding life be as shiny as stars in the sky. I love you, my brother. Congratulations on your wedding!

May this great event for our family be memorable and beautiful forever. May God bless you all the happiness and strength. I love you endlessly. Congratulations on your wedding, brother!

Love your partner so much, respect your relationship but never lose yourself. Wishing you strong compatibility and a happy wedding life.

Enjoy every minute of this beautiful occasion that comes only once in a lifetime. Find yourself a true love and respect the bond. Have a blissful wedding!

Dearest brother, showering my love and blessing on you and your life partner. Have a blessed wedding and hope you guys find true happiness and togetherness!

There are ups and downs in every kind of relationship and marriage always comes with a lot of those. Keep your head strong you guys and believe in each other, happy wedding life!

You are stepping in the new phase of your life. I wish you this be as astonishing as the earlier ones. All the best, closing my words with this statement. Your younger brother loves you a lot.

Now you will not be one. You will always be two and then three, then four and then……… . All the best for the future bro.

Happy wedding day brother. This is the new start of your life. I wish, it takes you on a heavenly ride. May both of you have a happy and rewarding life.

Though you are getting a new partner to share life with, but I tell you, I'll be following you like your shadow. You can get rid of me. Happy Wedding day!

I have made all the arrangement to make your wedding spectacular. I want you to outshine on your big day. Dear brother, from tomorrow, I'm going to miss you a lot. You will be sharing your room with sister-in-law. Love you, happy wedding!

Things going to change after tomorrow. There will be no late-night horror movies in your room, no secret talks, no sharing of clothes and calling from the bathroom. I'm happy for your new life and sad for mine. Happy wedding bro!

I know things will change after your wedding. But I know, my big brother will always be the same and I will be the dearest to him. Love you, brother and happy wedding!

Dear brother, I am very happy for you. Finally, you have got your love. But don't forget that you are the love of many of us. Happy Wedding. We have tried the best to make it spectacular.

With lots of love and happiness in heart, I wish you a happy wedding. This day is big for you and equally for us too.

Your brother loves you a lot. I wish you a wonderful life ahead with your sister in law.

A big congrats to both of you. This is a new journey for you two, I hope this remains rewarding, surprising and full of love for lifelong.

Congratulation to your brother and sister-in-law. This is the most awaited day for both of you. May lord showers all his blessings on this cute couple. Happy Wedding.

Being with you on your big day is the greatest bliss for me. Giving you my sincere love and admiration, along with a warm welcome to the sister-in-law. Happy Wedding bro!

With so much of love and appreciation for you in my heart, I welcome the new couple in our family. Your soul mate will never have a feeling of living in a different house.

My heart is smiling for your special day. Enjoy every moment of this big day. And let me know anything you want, I'm on your service today and going forward. Happy wedding day!
Wedding Wishes for Brother in Law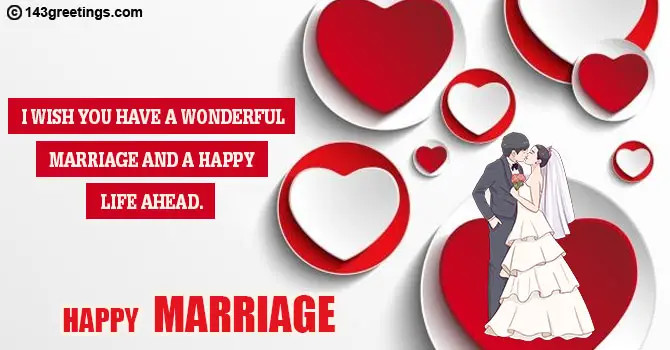 Happy wedding to you dear brother-in-law! You are going to start a new phase of life. We wish you all the best for the same.

I never felt a strange and alone after the wedding your big brother, all because of you. Your wife will also not feel the same, all because of me. Enjoy your wedding, brother-in-law!

With enormous love in heart, I wish you and your partner happy wedding. May you both be blessed with everything you desire for.

Cheer for finding the perfect partner. We all are happy for you and right here to help you with anything. Happy Wedding, brother-in-law!

Extremely excited to see you in a new role, from a brother-in-law to a husband of girl. I know, you will perform this role as well, perfectly. Happy Wedding to you and your wife.

Dear brother in law, I wish you lots of love, happiness and romance in life. Give your best in this new inning as well. Happy Wedding!

You are an incredible personality, spread the charm everywhere you go. I'm sure you will have a rocking love life.

Happy wedding to you dear brother-in-law. May you have the best time with your family, friends and your partner.
Wedding Wishes for Brother in Hindi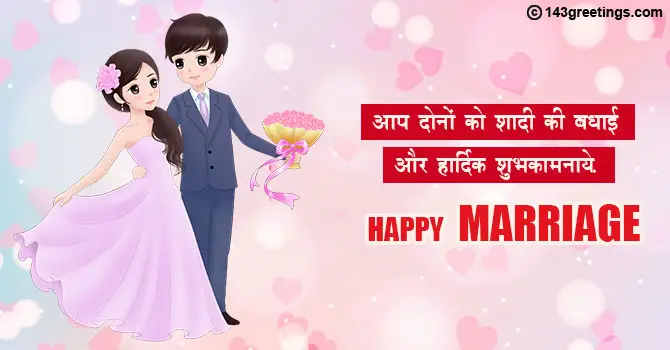 Kahte hain khuda ne banaya hai kisi na kisi ko kisi na kisi ke liye. Jab app mil hi gaye hain apne kisi se tu is mauke banate hai jashn bhara sabhi ke liye. Dheero shubhkamnayein mere bhai ko uski nayi jindagi ke liye.

Mere bhai ko uski nayi jinadagi ke liye dherron shubhkamnayein. Iswar tumhare jeewan ko khusiyon se bhar de.

Jab mai ghar mai bahu banker aayi, sharmayi aur sakuchai si, tumne mujhe ye ahsaas karwaya ki mai akeli nahin hoon yahan. Bhai sa saath diya, kabhi galtiyon ko chupa kar, kabhi surprises de kar. Tumhari nayi jindagi mein, mai bhi tumhare sath rahongi kabhi bahan bakar, kabhi bhabhi ban kar. Shadi ki dheero shubhkamnayein.

Khushi hai ki tumne apne jeewan sathi ko dhoondh kar nilak hi liya. Aage ki jindagi ke liye bahut saari shubhkaamnon ke sath, all the best.

Jab jindagi ko gujarane ke liye sath mil jata hai, jindagi bahut aasan ho jati hai. Mushkilein thodi sambhal kar aati hain, aur khusiyon ko aane ka bahana nahin chahiye hota hai. Shadi ki dheero shubhkamnayein, mere bhai ko.

Tere sath gujara har lamha jaise yaad sa ban jayega kuch dino baad. Lekin, yaad rakhna, tu apnea aas paas hi payega mujhe chahe kal ho ya aaj. Tumhe aur tumhare sathi ko shadi ke bahut shubhkamnayein.

Shadi ek chunati hai, ise isi prakar lekar hi jeeta ja sakta hai, jaise tumhari bahen ne jeeta hai. Dheero shubhkamnayein, shadi ke liye.

Tum ho tu, jindagi lage khubsoorat, jo tum nahin tu isme rang kahan. Chahat hai hamesha tumko muskurata hua dekhon chahe yahon ya wahan.
Wedding Wishes for Big Brother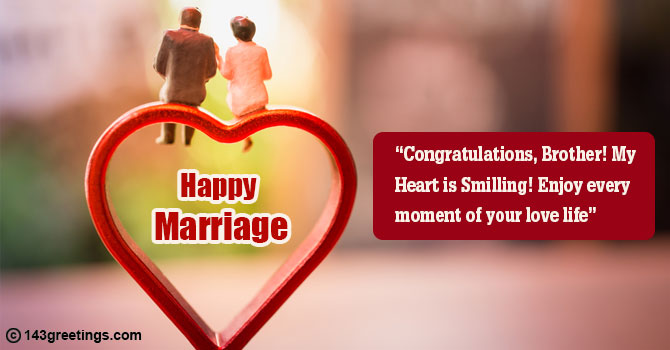 Dear brother, lots of wishes for the wedding but make sure you will not grow up as an uncle. Love to my only big brother at his wedding. Enjoy the day!

Thanks brother, for bringing another friend for me. You know well, what makes me happy. Lots of wishes for the wedding.

You are entering into a new life. I wish this be the best. New opportunities, new surprises and new stories. Happy Wedding dear big bro!

You are the best brother, son and now will be an impeccable husband. Happy wedding brother.

So many things will change after your wedding, except for the love of mine and other members of the family for you. Lots of wishes for the wedding.

Happy wedding to you dear brother. May the new relation only add up happiness in your life. Love you a lot!

You have been an incredible brother, things were really easy and fun to do with you. Hope the sister-in-law add more flavours to our lovely relationship. Happy wedding.

I am lucky to be your younger brother. My wife will get the blessings of you and sister-in-law both. Thanks for deciding to add a new member in the family. Happy wedding day big bro.
Funny Wedding Wishes for Brother
Marriage is like a challenge, you will be happy and content if you will accept it as a challenge and deal with it. Happy Marriage!

A happy marriage is a miss quoted statement. Marriage and happiness are two different things. Still, I would say to my brother, happy marriage!

Even after experiencing what marriage is all about, via my marriage, if you have decided to marry, all my sympathy is with you. Happy Wedding!

Congratulations brother for wedding and welcome to the married men's group. You can share your sorrows here, no one will judge you.

Every man smiles standing at the wedding stage. Every man rethinks about the decision later one month, what was there to smile in weddings. Happy Wedding brother!

On my wedding day, people wished me 'Happy Married Life'. I'm still searching happiness that people say accompanies marriage. It hasn't come into my life yet. Brother, be careful and don't forget to take it with you after the function if you could find it somewhere. Happy Wedding!

Dear brother, now it's too late to regret. Accept my wish and smile to deal with it. This is your happy wedding.

Wishing my younger brother happy wedding. Have all kinds of fun, as it won't last for long.
The wedding is an important event in life. The person deserves all types of happiness on the day. If your brother is all set to tie knots, stand next to him all the time to boost his confidence. Also wish him all the best for the next time. It is an important day and comes in everyone's life. Your presence and wishes will give him all types of support he needs at the time. For wedding wishes, take help from our wedding wishes for brother collection. It is heart-touching and inspiring.
Tags: wedding wishes for brother, wedding messages for brother, wedding sms for brother