Last Updated:
Tuesday, 27 December 2022
Canada Day Messages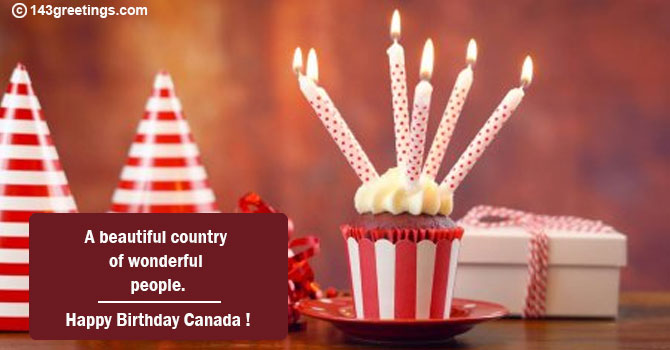 Canada Day Messages: It's a happy moment for every canadian and the people who live in canada as the day is the national day of canada. on the day citizens of canada unite from coast to coast and cherish every moment. if someone you love lives in canada, your family lives in the country or you know someone in canada, don't forget to greet him/her on the day.

Now don't scratch your head for great Canada day wishes, we are here to help you. Find the best wishes, greetings, text messages from our collection and make your day. You can share these messages on different social media platforms too.
Happy Canada Day to all Canadians. This is the time to do something for the nation. 

In addition to celebrating the holiday, doing parties and having fun, don't forget to pay tribute to Canada's true heroes. Happy Canada Day!

My wish to every Canadian. May you all grow and prosper and take our nation to the new height. Happy Canada Day!

Lots of wishes to all Canadian for the Canada day. And blessings to Canada. May you prosper always the same way!

Canada day is the day to spend time with friends, create new memories and do something for the nation. Let's join hands and celebrate Canada day.

So what if we can't meet, we can still celebrate together by wishing each other on phone. Happy Canada day my friend.

Wishing you a great 2020 Canada day, may you have a good health and stay safe at home.

Its 1st July, it's Canada Day. I can't stop myself from moving and shaking my body. Let's do this together---------- everybody.

May our Canada prosper every year and become one of the best nations in the world. Happy Canada day to all my loved ones.

Canada is our nation and we all are proud of it. May it grow every year like never before whilst we do everything to make it better than ever.

Happy, happy and happy Canada day to all my love one. I would say, stay at home and be safe.

The best way we can celebrate Canada day in 2020 is staying at home and wishing everyone from a distance. Happy Canada day.

We can break the barbeque next time, have fun next year, enjoy new concerts after a few months. Let's celebrate Canada day 2020 in isolation.

The best day of the year, Canada is coming. Guys, pull up your socks to rock on. Happy Canada day.

Canada Day Messages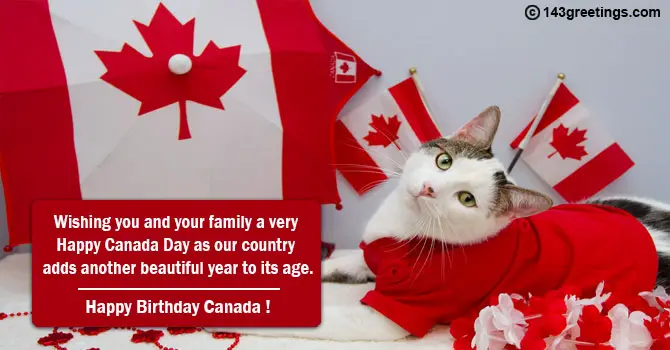 This is the day we become the citizen of free Canada, this a moment to cherish and always remember the sacrifices made. Happy Canada day.

Time to hold the heads high, let our flags fly. It is the time to celebrate Canada day as it is 1st of July.

Happy birthday to my lovely Canada, may you grow as the world leader one day. Lots of love.

A wonderful day to all my Canadian friends, have a lovely day.

On your 153rd birthday, I wish you happy Canada day. May you prosper every day and every night.

The lockdown might make our celebration a bit dull. But our commitment to our nation shouldn't break. Stay inside and be safe. Happy Canada day.

My heart is feeling proud, it is the day we got our lovely Canada. May your prosper each day.

It is the moving day in Quebec, so lets move a little not outside but inside our houses. Happy Canada Day.
Canada Day Wishes for Friends & Family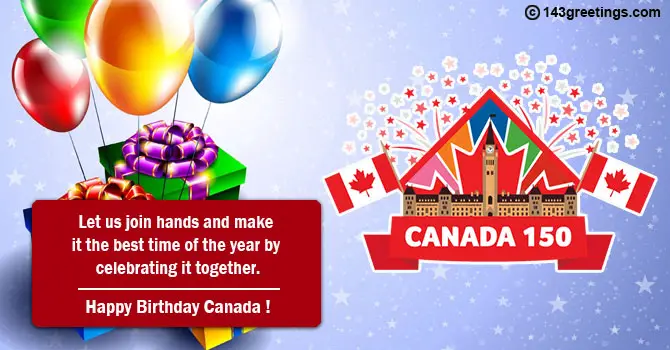 1 July used to be the day of merriment and enjoyment for us, but this year our enjoyment will be with family at home. Happy Canada day.

I will make 2020 Canada Day memorable by staying at home spending time with family. You too, please.

Our Canada will be happy to its citizen behaving in a responsible manner. Wishing you all happy Canada day.

I am far away, we couldn't meet. Missing my Canada, missing Canada day. Love you all.

The best way one can celebrate Canada is by bring in home and spending time with family. Happy Canada day to everybody.

Its the 1st July, again the day of merriment has come. Let's shake our heads and hand.

Happy Canada day to everyone who are Canadian by heart and love Canada in any ways.

Happy Canada day to you wherever you are. Stay safe and healthy, see you in the party next year.
Canada Day Wishes for Social Media
Canada is asking its citizens to behave in a responsible manner. If you will do that, it will be very happy. Happy Canada Day.

Congratulations to Canada and all Canadian, you are all great and big hearted people. Happy Canada day.

I wanted to organize the best party every on 2020 Canada day. But I know what Canada is expecting from me this year. Have happy and prosperous Canada day.

The whole world is happy for Canada day, congratulation dear, you have grown such big. Happy Canada Day

Make the biggest day of Canada the most beautiful day by celebrating the day with family.

No one would feel bad if you will not visit their house to wish them. This year, it is better to stay at home and keep others protected. Happy Canada Day.

What a wonderful day it is. Happy Canada day you sweetheart.

Let's join hands to make the 2020 Canada special by not going out, staying at home and celebrating with family.
Canada Day Quotes
Happy Canada day to beautiful terrain here, happy Canada day to people here, happy Canada day to lovely beaches here. Happy Canada day to the beautiful Canada.

If you are living in Canada means you are the happiest person on this planet. Love you Canada.

Happy Canada day to all Canadian women who are sweet by heart and tough by the body.

Love you Canada, I was a child and you have made me a gentleman.

It is the Canada that has given me the perspective of the world. Love you a lot, have a great day all Canadians.

Go east or west, you will find Canada is the best. Happy and prosperous Canada day to every citizen of the country.

If you come once to Canada, you will become a Canadian. I am in love with the country.

May you conquer all challenges and the 2020 become a great year for Canada. Happy Canada day.
Wishing the people of Canada, happy Canada day is an appreciable gesture. You not only make them happy but also understand their feelings for their country. A wish comprises of love and respect truly shows how careful you are about the person and the country. So check our canada day wishes and send it to your love ones.