Last Updated:
April 22, 2020
Wedding Wishes for Friend
A wedding is a big day in a person's life, and when it the wedding of the best friend, it becomes a special day for you too. If you have been invited to a friend's wedding, you should shower wishes and blessings on the wedded couple in ample and be the part of the celebration, which you must also be thinking. If you do not want your wish to sound lucid and you are looking for words that express your core true feeling, then be indigenous. To inspire you to write a heart-touching wedding message for a friend, we have created an assemblage of messages. You can use our wedding wishes and messages either for inspirations or send it directly. However, we assure, you will get here, befitting messages expressing your true sentiments for your friend.
Wishing you happy wedding, my friend. May your life be filled with love till the next year when we give the same blessing again on your anniversary.

A warm and heartiest congratulation to one of the most lovable couple I know. May the love in your relationship only grow, grow and grow.

Loads of good wishes to both of you, I wish your love grow with every passing day. You guys look awesome together. Have a happy and fun filled wedding day.

Wedding is all about remembering those forgotten love moments and committing to be together forever. On your wedding day, I wish both my friends spend wonderful time together.

Happy wedding to you, you are my dearest friend. And I wish, my friend gets all the happiness he deserves and he enjoys it with his partner all through the life.

After your wedding, I will miss my old friend, things will change and would not be like before. But, I am not a selfish friend who will hold you back. Instead, I wish both of you enjoy your married life to the fullest. I love you the most.

This is your wedding day, but trust me today also you are looking as young as I saw you first time in the school and decided to make you my best friend. I pray god to bless you lots of happy time.

Whenever I see both of your loving each other so deeply, my belief on marriage becomes stronger than before. Have a happy time, dear friend, enjoy your wedding day.

You guys are strong as an individual, but become tough to compete with when come together. I pray to God to keep this strength in your relationship undying. Lots of wishes and kisses to both of you and lastly heartiest congratulations for the wedding.

My heartiest congratulations to both of you on your wedding. May the love in your relationship remain unending. Lots of love to both of you.
Wedding Wishes for Childhood Friend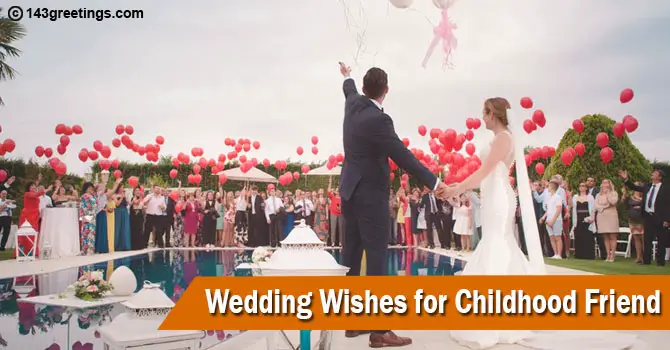 To my all time dearest friend, wish you a happy wedding day from the depth of my heart. May you get everything that you love and you enjoy it with your partner.

Happy anniversary dear mom and dad, may I have your day please. I want to spend time with you guys.

I had a wonderful friend, we played together, cried together, laughed together, studied together. Then one day he fell in love with a girl, and decided to marry that girl. Nothing will change even after, after your wedding, we will become three friends who will play together, laugh together, and live happily together. Love you guys, you are the best couple I know and wish you a happy wedding.

Dear friend, I loved you like my brother, but when you took an intelligent move of marrying a girl like her, I started respecting you. You deserve my salute on your wedding day. Remember, our party will be different.

Happy wedding -----, the family responsibilities, work will occupy us, but I assure you our friendship will never suffer in any situation. We are like brothers from different mothers. Have a great time with family and friends.

Happy wedding to you my sweetheart with the wish that wall of your house knows only the joy, rooms filled with laughter and windows open for new opportunities.
Funny Wedding Wishes for Friend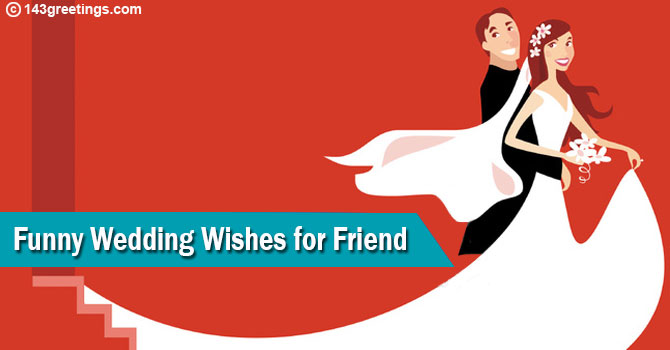 From the core of my heart, I wish you a happy wedding. On this special occasion, I want to share my personal feeling 'I am feeing very relaxed and happy on your wedding day, and this is because, now I don't have to listen to your boring love stories'. I pray to God to give strength to your husband.

Happy wedding to the love couple. May you have the best time together, which I feel you rarely going to have after this day.

Happy wedding dear, there is a surprise for you! Both of you have improved a lot and have understood what marriage is all about. Surprised! How, I know this? This is because, I have checked your room and have seen your secret resolution that you are going to follow after the wedding.

Happy wedding to the lovely couple. Your understanding and chemistry speak a lot about you. It says, you guys are made for each other. You sleep late, wake up late, late comers in the office. And both of you are now going to live together. May God bless us.

A happy couple after marriage is a rare combination and I know my friend is going to relish this blend. Happy wedding and have a wonderful life.
Wedding Wishes For Friends Son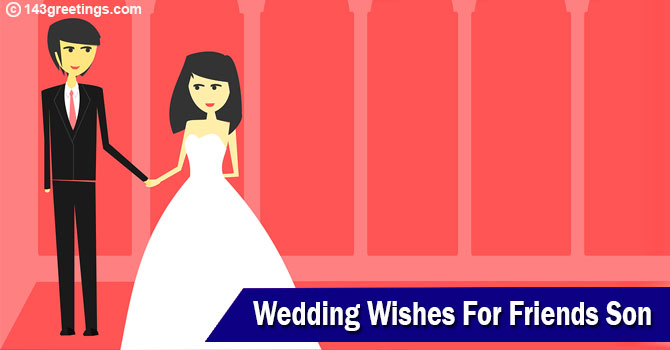 Wedding is a special day, and just like any other special days, it also brings some challenges like new responsibilities, expectations, urge and stress. A champion married man is the one who master the art of balancing all these factors. This is a guidance to a newly wedded boy from an experienced married man.

A lot of congratulation to you, dear son. I wish, you live a prosperous and love filled life with your partner.

I wish, you have a momentous wedding day and a wonderful life dear Son and Daughter-in-law. Just like the redness of red roses, love in your relationship remains intact and intense.

Now that you are marrying to the girl you chose to spend life with, we wish, you have a wonderful love filled life with your partner. No hurdle comes your path. God bless you.

Happy wedding to the lovely couple, the secret of a lovely married life is keep loving your partner, no matter what people say about your actions.
Advance Marriage Wishes For Best Friend
You are a friend in need is a friend indeed type. Now, you are stepping in the next phase of your life, I give you lots of wishes. I might not be able to come in your wedding, so forget me for the same.

This was the much awaited day for both of you and after a few days your status will change from single to married. Wish you a happy wedding day followed by happy married life in advance.

You two are made for each other, I was sure about this from the very beginning. And now that you guys are tying knots, I wish you a happy wedding day in advance. Have a great day and awesome honeymoon time.

Thinking that my message does not get vanish in so many wishes you are going to receive on the special day, I am sending happy wedding wishes to my friend in advance. Have a great day, see you tomorrow in the celebration.

You waited for this moment for a long. Now that, it has come to you, I wish you a happy wedding in advance. Enjoy the day and walk confidently on the aisle.
Wedding Wishes Messages
Today is a special day for you, but a more special day for us. We will be the witness of this special marriage that has only love, nothing else.

Lots of wishes to both of you, I pray God to bless you everything that ensure love in your relationship for life long. Heartiest congratulation for this special moment.

Marriage is not all about just tying knots. It is more about accepting your partner as your partner for everything you are going to face in life. It is about devotion, acceptance and sacrifice.

Lots of good wishes to you for starting a new life. I wish it is flooded with love, trust and romance all through the life. Congratulation.

Congratulations to you dear friend, this is a big day for you and I wish together, you receive more happiness in life than you could imagine.
Wedding Wishes Congratulations
Congratulations for the wedding and beginning of a new chapter in life. I wish, this wedding, make your life splendid.

Many-many congratulations! Together you both look perfect and I wish both of you bring perfection in each other's life as well.

The secret of a happy marriage is, having love, patience, understanding and trust in a relationship. You guys know this already and so I have a strong believe that you will have a never-ending love journey together.

Congratulations for entering into the new phase of life. We know you will be a hero in this phase as well. Have a happy married life brother.

It is amazing and cute to see two hearts becoming one. I wish you have an exemplary wedded life and love in your relation remain undying. Congratulations!
Pre Wedding Wishes for Friend
I want God to shower all his blessings on my friend who is tying knots soon with her long time love. Congratulations in advance dear.

Just like you are perfect in every department, you will rock the show on your wedding day as well. You will look as handsome as you always appear. And to boost your confidence we will be around you, so cheer.

Congratulations bro for wedding, give your best shot on the day and don't feel distressed. We are there to give you pre-wedding jitters a tight punch.

I wish the love in your relationship grow. Love overshadow any flaws in both of you and take you on a long ride of love journey. Best wishes for pre-wedding and see you on the D day.

Best wishes for pre-wedding. Wish you have lots of laughs, fun and love in your married life. Both of you are made for each other.
Wedding Status for Best Friend
My friend is getting married and I am very happy for him. Congratulations

Marriage will change your status but it will not change my relationship status with you.

The day to begin the new chapter in life is not far away

Counting days, I will never be the one who I am today. However, I love to be the part of this change.

My friend's wedding day is an extra special day for me. Congratulations bro.
There is no hard and fast rule to write a wedding wish, quotes or message. You can use your creativity to write the one that impresses your friend. From our end we have tried to present the wishes that you can use to greet him, you can make changes in it to give it a personal touch or use it just as it is. Check our other categories as well to get wishes and quotes for different occasions. And the friend's wedding wishes never go unread and felt. So, take out your best creativity to show your love.
Tags: wedding wishes for friend, funny wedding wishes for friend, wedding wishes messages