Last Updated:
10th December, 2020
Christian Birthday Wishes
If you wanna wish someone happy birthday who give high value to Christanity take help of our 'Chirtian birthday wishes' collection. These are religious birthday quotes inspired by bible prayers and quotes. Although, the wishes have been drafted for Chirstans but it is for everyone who give respect to religious values. Our collection of messages is fresh and touches heart. You can use it via text or write in a card.

May Jesus shower his love and blessings on you. May you get everything that you want in life. Many-many happy returns of the day!

Jesus is always there to help and support you, may all wishes come true on your special day. Happy Birthday, my sweetheart!

Happy birthday my love, may your day be as special as you are. May God enlighten your path and make your coming life beautiful.

Many-many happy returns of the day, Son. You are the son of Lord Jesus, he is always there to protect you.

May lord Jesus always shower blessings and love in your pocket. Happiest birthday, have a good day!

Wishing you loads of love and happiness on your this day, may lord always praise you and show you the way. Happy birthday!

May all your sunsets be the best but may lord always bless you with a happy and healthy sunrise. Have a happy birthday, enjoy!

Today on your special day, I wish that god always guide you home and light your home. Happy birthday dear!

Happy birthday to you! May the lord Jesus give you everything you dream for. You follow Jesus light of the gospel and live a pristine life.

With the grace of Lord Jesus, you are celebrating another birthday. May Jesus bless you lots of happiness in life.

Your life is the gift of Jesus to us. I wish your life blossom like flowers in spring. Bless you Son.

May Jesus fill your life with abundance love! We all love you and want to see you celebrating many-many birthdays like this. Bless you dear.

Happy Birthday dear! I pray Lord Jesus to bless your life and give you happiness in abundance.

May Lord showers countless blessings and infinite happiness on you. Happy-happy and happiest birthday to you.

May lord Jesus shower blessings on you, enlighten your journey and give it a beautiful destiny. Happy Birthday darling.

Happiest Birthday to a wonderful boy, caring son, loving partner and responsible citizen. You are the gift of Jesus to me.

I pray to Jesus every morning to bless you a life full of love, happiness and no pain. Happy Birthday dear, have the bestest birthday celebration.

May you feel compassion and love of God in your every action. May his glory guide you in everything you do. Lots of wishes for this special day, happy Birthday.

Funny Christian Birthday Wishes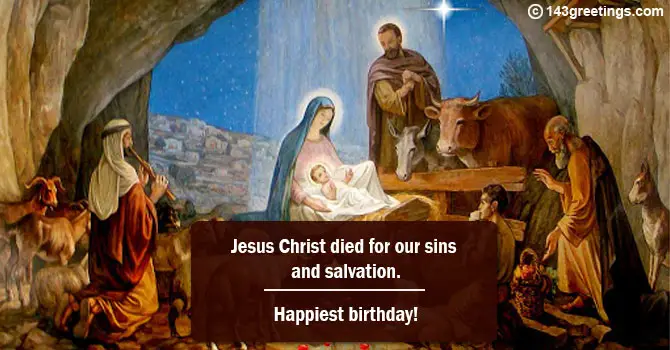 By the grace of Jesus, you have got everything, senses, limbs, brain, beauty! On your 20 Birthday, I pray to the Lord to give you understanding to use it. Good bless you sweetheart.

Happy Birthday Dear! May Jesus give you courage and strength to manage your birthday party with crazy friends like us.

Happy Birthday to my Jesus lover friend, who hurt no one. We are coming in your birthday party, be prepared dear.

Your birthday cake will not have candles over it to blow. Because, by the grace of Jesus, you are so hot, that birthday candles won't stay on your cake for long. Happy Birthday, cutest and beautiful girl.

Leaving all the parties, I have decided to be the guest of your birthday party today. Please, share venue and time. Jesus will not forgive you, if you will not call me today.

Hey Dear, Happy Birthday, May Jesus bless you happiness in abundance. Don't think the celebration is over now. We all will be at your home for the party tonight. You have got a monster like friends. We don't leave freinds alone.

By the blessing of Jesus, all 12 of us are free in the evening. So, we can come anywhere for the Birthday party. Happy Birthday, have a happy and cheerful day.

May you have the best birthday celebration today. May lord, fulfil all your wishes and our too. Have a great day Bro.
Christian Birthday Wishes for Son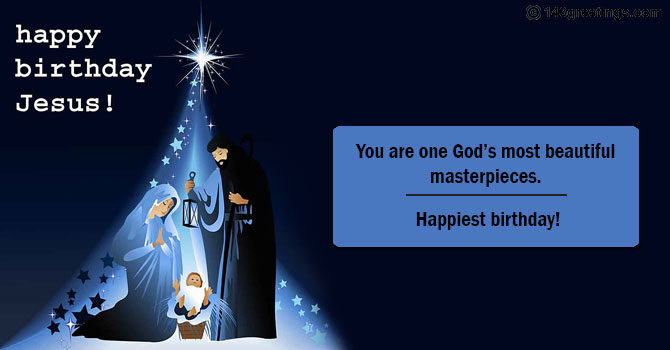 May this year be the best for you. Jesus shower blessings on you and give a path to your destiny. Happy birthday son, we love you a lot.

Jesus knows everything, and he is the provider of solution for every concern. Trust him, if he has brought you this far, he will help you reach your destiny too.

I am thankful to Jesus for giving you as my Son, I feel so blessed when I see you doing so good in life and doing do much for humanity. Happy Birthday Son! May you continue receiving blessings from almighty, all your life.

As you are adding years to your age, it is important that you understand your increased responsibilities at the same time. May Jesus bless you and give you wisdom to be a good human. Happy Birthday Son.

Lots of wishes for your birthday dear Son. You have been an incredible Son, an obedient son of Jesus. May he takes away all your pains and fill happiness in your life.

Now that you are far away from family, I am praying Jesus to bless you more. Be his obedient child lifelong. Love you, Happy Birthday.

Now you have become our identity, you have made us a proud parent by your actions. Nothing is more rewarding for us than this. May almighty bless you and gift everything you wish for. Happy Birthday son.

Happy Birthday Son, You are a gift of Jesus, you have come on the earth for a purpose. Understand that and work on the same to reach to your destiny.
Christian Birthday Wishes for Daughter from Mom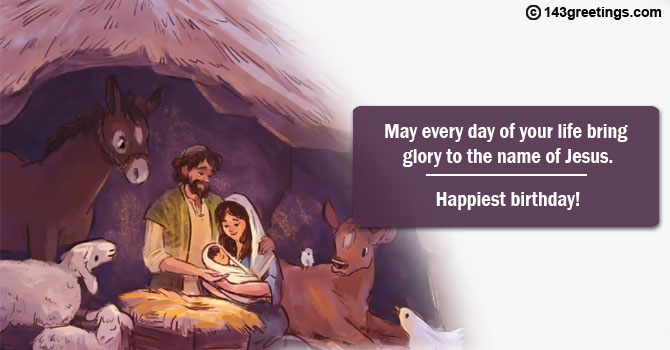 Happy birthday to my beautiful daughter. You are beautiful as dew drops, innocent at first chirping of birds, cute as newborn babies, original as nature. I wish, Jesus shower many-many blessings on you, and you have a great birthday.

I am grateful to Jesus for gift of daughter as you. Today, you are one more year older, and I wish you experience more mercy of Jesus in your journey for your destiny. Happy Birthday Honey.

Happy Birthday my love! This is another year, it means God has given you another year to add more experiences in your life. Make it more rewarding by your actions.

May the glory of Jesus follow you till eternity. Happy birthday, my sweetheart, have a great day.

The biggest gift for parents from their children is, they become bigger and better than their parents. You have already made us proud. I pray to the Lord, you receive his grace and become a better version of yourself. Happy Birthday, you are my sweetheart.

Happy birthday my sweetheart! Remember, this wish doesn't mirror even a pinch of love we hold in our heart for you. But because you are not with us this birthday, we have only this option.

Happy birthday my sweetheart, this your day and I wish you each minute of the day remain splendid for you. I thank Jesus for showering so much blessings on you. Love you.

May his enlightenment show you the right path in life, his glory guide to chose between wrong and right, his blessings follow you till eternity. Happy birthday, my doll, my sweetheart, my darling.
Christian Birthday Wishes for Cousin
It is the blessing of Lord Jesus that I have got a cousin like you. You are more like my brother. Happy Birthday to you, dear.

I feel glad whenever I see you. You are not just my brother but a person you stand next to me in every situation. May Jesus bless you long life and a love filled association for both of us.

Hey brother, happy birthday to you! On your birthday, I am praying to the Lord to turn hurdles into opportunity coming your way. Have a great birthday celebration.

Many-many happy returns of the day, I pray to Jesus to shower blessings on you. May you have a great time with your friends wherever you are.

I wish god give you everything you desire for. Happy birthday sweetheart, you are the best brother one can have.

Though our parents are not same, the compassion and love we share for each other is bigger that everything. Jesus might have planned something for us. Happy Birthday brother, have a great day.

As you are celebrating your birthday, I wish you get everything that you desire. My brother is best in this world, and I am your proud sibling. Happy Birthday, May lord shower his choicest blessings on you.

Hey bro, happy birthday! You a great guy and a good child of Jesus. Follow his path to find your destiny. Love you, your cousin.
Christian Birthday Wishes For A 10 Year Old Boy
Hey buddy, you have turned 10. This is the time to enjoy the moment. I pray to Jesus to you and enlighten your life's journey.

Happy birthday to the growing boy. May you receive all blessings from people who love you and people you love. Lord Jesus will enlighten your path for the future.

Wish you happy 10th birthday sweetheart! May Lord Jesus enlighten your life with his blessings.

Wish you a grand 10th happy birthday young boy. You are God's child. Follow his path and have a blissful life. God bless you and keep you happy always.

Happy 10th birthday, my boy. May Jesus bless you strength, wisdom and happiness in abundance.

Many-many happy returns of the day, sweetheart. The amazing journey of your life has begun. On the occasion, I have prayed to the Jesus to bless you wisdom to judge good and bad, right and wrong. Be happy always.

Bingo! You are 10 now, and it is a great time! You have become a mature kid and ready to understand everything. I wish Jesus blessings follow you all through your life's journey.

Happy birthday, my sweetheart, as you are turning 10 today, I am sharing an important lesson with you. "Never try be what you are not, and never try not to be what you are". Happy Birthday once again.
It is good to include bible verses in wishes, however, for many it is not easy. If you are the one who find difficult playing with words, check our Christian birthday wishes collection once. Pen it down in your choice of your card or send via text, the preference is all yours.
Tags: christian birthday wishes, christian birthday messages, christian birthday quotes