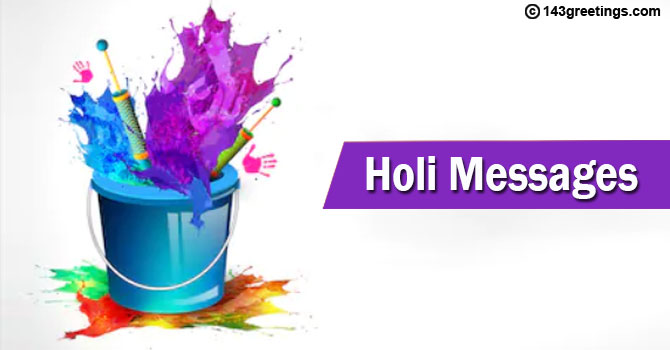 Happy Holi Wishes for Your Best Friend
The Hindus' most significant holiday is Holi. It inspires us to live extraordinary lives, end our negative emotions, and seek peace in our relationships. Enjoy this joyous occasion by sending Holi wishes to your closest friends and family to bring back fond memories.

Happy Holi Wishes Quotes Messages
Holi is also a time for family, friends, and traditional delicacies, sweets, and music. Let's use this joyous occasion to build our bonds with one another by sending messages & quotes. Words are an excellent way to connect even though there is a distance of miles. Check out our beautiful messages to reconnect with your friends & family.

Inspirational Holi Messages in English
Holi marks the end of winter, the triumph of good over evil, and the beginning of spring. Usually held in March, the celebration distinguishes by its colorful splashes of water and powder. Some inspirational Holi messages are here. Read these and send them to your beloved.

Holi Corporate Wishes

Eco Friendly Holi Messages

Happy Holi wishes 2021
Inspirational Holi Messages
Holi, a festival foll of colours comes once in a year. The festival signifies the victory of good over evil. Spread the word and send the most inspirational Holi messages to your friends an family. Tell them the significance of the festival and also convey your warm regards. Read on and choose the message which you find the most inspirational in order to send to your near and dear ones. Send them directly on any social media platform including Facebook, Whatsapp, Twitter or Pinterest.

Professional Holi Wishes
Holi wishes are not just words rather they also carry the deepest emotions. This Holi establish an emotional connection with your boss by sending him/her the finest Holi wishes. Make friendly relations with your boss by sending the best wishes. Read on and find the best wishes for your boss. You can directly share the messages with your boss on any social media platform including Facebook, Twitter, Pinterest, and Whatsapp.

Holi Messages for Everyone
Holi is the festival which people celebrate by throwing balloons and colors on one another. Delicious delicacies like gujiya and thandai are also relished on this day. Add more colours and fun to the festival by conveying your choicest blessing to everyone. On this day of fun and rejoicing, 143greetings has the perfect wishes for you which you can send to your near and dear ones on this occasion.

May Holi's vibrant colors inspire everyone to live happy, peaceful lives and to realize their full potential. Paint the skies with hues of adoration and love for this fantastic festival. Enjoy your lovely holiday with your loved ones, family, and friends. Wish your loved ones a happy Holi with a few straightforward but lovely wishes. Let the colors make your life vibrant, and enjoy the heady high of bhang. At the color festival, show and honor the most amazing emotion of love.
Enjoy Holi, and stay safe!